Google release update for TensorFlow 2.0, TensorFlow 2.0.0-rc0 pre-release come with many new features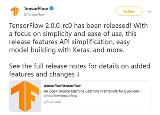 NI Wire, Tue, 3 Dec 2019
TensorFlow 2.0 update released with new features and updates. TensorFlow 2.0.0-rc0 comes with the strong model deployment in production.
It's 2 Months Since Apple Launched iOS 13. Here Are The Key Features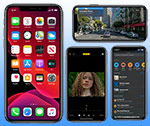 Deepak Kumar, Wed, 13 Nov 2019
Nearly two months have elapsed since Apple released iOS 13 update. The update has been an enchanting one and a big break from the so called iOS updates that come every year.
Google News App is now available with the support for Multiple Languages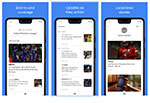 Deepak Kumar, Fri, 8 Nov 2019
Very popular news application the Google News App for mobile devices now supports multiple languages.
Starbucks to license its loyalty and mobile technology to Brightloom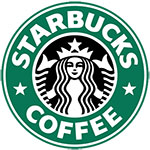 Deepak Kumar, Sun, 28 Jul 2019
Starbucks has just decided to give part of the license of its proprietary mobile technology to the technology company Brightloom for the express purpose of building a more sophisticated cloud based software as a service (SaaS) platform.
Vivo S1 expected to be launched in India August; Phone to feature Helio P65 SoC and 4,500mAh battery



Deepak Kumar, Tue, 16 Jul 2019
Chinese mobile phone manufacturer Vivo is expected to launch Vivo S1 Smartphone with powerful Helio P65 SoC processor and huge 4,500mAh battery.
More Stories