Wonder pill for Alzheimer's to soon become a reality



NI Wire, Thu, 1 Nov 2012
There is a good news for those suffering from Alzheimer's as a pill said to halt the devastating onset of Alzheimer's disease is about to hit the market within four years, the Daily mail reports say.
Household chemicals to blame for cancer, reduced fertility



NI Wire, Fri, 11 May 2012
Amidst increasing threats and rising number of cases of cancer there is a threat from your home as well. European Environment Agency (EEA) has cautioned that chemicals found in household products may be contributing to increasing number of cancer, diminished fertility and obesity.
BMI may understand the epidemic of obesity



NI Wire, Tue, 3 Apr 2012
According to a recent study in US, Body-mass index BMI, widely used across the globe by the medical experts, health insurers and the fitness industry for more than 200 years may be classifying almost half of women and just over 20 per cent of men as healthy as their body-fat composition suggests they are obese.
Diabetes may originate in gut, says study



NI Wire, Fri, 17 Feb 2012
A new study suggests that the problems controlling blood sugar - the characteristic of diabetes - may begin in the intestines.
Sleep disorders increases risk of diabetes and heart disease 6-times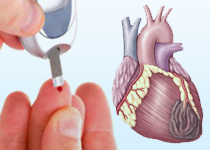 NI Wire, Mon, 30 Jan 2012
Having problems in falling asleep may put you on the risk diabetes and heart disease. A recent study has found that sleep disorder increases the risk of diabetes and heart disease six times.
More Stories

1
2