Day-long Awareness Campaign on World TB Day at AIIMS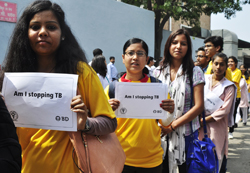 NI Wire, Mon, 24 Mar 2014
Hundreds of students took part in the formation of a human chain and rally to express solidarity with TB patients to raise public awareness about the debilitating disease at AIIMS in association with Becton, Dickinson & Co. (BD India), a leading medica
World TB Day: One million kids suffer from TB annually, says survey



NI Wire, Mon, 24 Mar 2014
Despite the facts that we have achieved major success in the field of medical science and medicines, it is the fact that the number of children suffering from tuberculosis (TB) annually has doubled since 2011. The shocking facts in the entire matter are that the truth is existing despite improved medication and government as well as aid agencies efforts.
World TB Day: President call for united efforts for eradication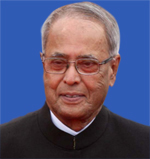 NI Wire, Sun, 23 Mar 2014
President Pranab Mukherjee has expressed confidence that with determined efforts, India can be free of tuberculosis within a short period of time. His message come in the light of World Tuberculosis day to celebrated on 24 th of March.
World TB Day: Need to tackle this threat with concerted efforts



NI Wire, Sat, 22 Mar 2014
United Nations: In a bid to check the growing cased of TB in the world, UN Secretary General Ban Ki-moon has called for increased global solidarity to eradicate the same. He was addressing on the occasion of the World Tuberculosis Day March 24
Diagnose of Pancreatic cancer become easy with new method: Research



NI Wire, Sat, 22 Mar 2014
Not there is good news in the field of cancer treatment as scientists have developed a method which identifies the cancer's visible precursors with 97 percent certainty. With this, the dreaded pancreatic cancer, which is often detected at a late stage resulting in poor prognosis and limited treatment options, may now be nipped in the bud
More Stories