Prevent asthmatic kids from the passive smoking: Study



NI Wire, Sat, 15 Feb 2014
In a latest study, it has been find out that children exposed to smoking at home have lower levels of an enzyme that helps them respond to asthma treatment. However passive smoking is known to worsen asthma symptoms in children and impair their response to inhaled steroid treatment, but how this effect occurs was not known till date.
World Cancer Day 2014: Debunk the myths



NI Wire, Mon, 3 Feb 2014
World Cancer day is observed every year on February 4 with an objective to create awareness about the prevention, diagnosis, and treatment of cancer among the common people across the world.
Watch out for simple signs indicating a pacemaker malfunction: Expert



NI Wire, Fri, 31 Jan 2014
If someone had got a pacemaker implanted then there is need to take precaution, as any kind of carelessness can be harmful. Expert suggests that any kind of a simple sign indicating a pacemaker malfunction should be addressed urgently and as any kind of delay can be disastrous.
Food Safety Act: CAIT representative meets Union Health Minister Azad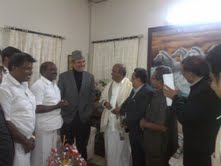 NI Wire, Fri, 31 Jan 2014
The Confederation of All India Traders (CAIT), apex body of the trading community has submitted a detailed representation to Union Health Minister Mr. Ghulam Nabi Azad during a meeting with him .
Don't call obesity a disease, it increases your weight gain: Study



NI Wire, Thu, 30 Jan 2014
In a astonishing study, researchers have warned that terming obesity as an illness or a disease makes overweight people less alarmed about their health because they think that they have no control over their weight.
More Stories