Tarun Tahiliani brings Marriage, Mystic and Magic on ramp to end IBFW 2013



Amit Kumar, Mon, 29 Jul 2013
Elegance, style, craftsmanship and impeccable quality are terms synonymous with him in every sense. He is known to incorporate traditional Indian drapes, textiles and techniques in modern contemporary form to achieve an international look in his ensembles. Tarun Tahiliani, presented his collection- Marriage, Mystic and Magic at the fourth edition of the Aamby Valley India Bridal Fashion Week
India Bridal fashion Week 2013 ends with Tarun Tahiliani's splendid show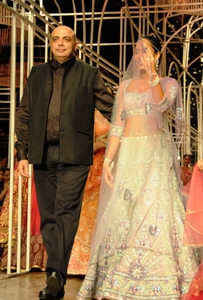 NI Wire, Mon, 29 Jul 2013
The six day extravaganza 'India Bridal fashion Week 2013' ended on July 29 with the showcase of magnificent collections of ace designer 'Tarun Tahiliani', which left the spectators mesmerized.
Sonam Kapoor turns ramp into dance floor for Rohit Bal on IBFW Day 4: Watch Video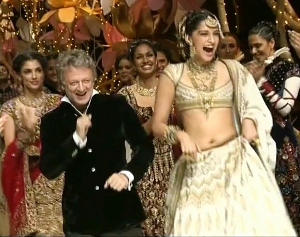 NI Wire, Sat, 27 Jul 2013
Bollywood actress Sonam Kapoor turned the ramp into dance floor, when she shook her legs with ace designer Rohit Bal on 1969 classic 'Aa jaane Jaan' during the fourth day of India Bridal Fashion Week 2013.
Rohil Bal and Ashima Leena makes IBFW Day 4 special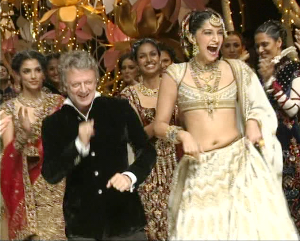 Amit Kumar, Sat, 27 Jul 2013
The fourth day of India Bridal fashion Week was quite special as Designer duo Ashima Leena presented their dream collection 'Aalap' creating a great historical abeyance, while ace designer 'Rohit Bal' marked his debut in a fabulous style as he has been always known for, with his collection entitled 'The Mulmul Masquerade' with the best of Indian classics to add to the sublime elegance to his collections.
Shane & Falguni Peacock's 'Garden of Eden' brings nature on ramp at IBFW Day 3



NI Wire, Fri, 26 Jul 2013
Falguni and Shane peacock, the husband and wife designer duo, have already created stirs in the global market and have an impressive clientele which includes Madonna, Britney spears, Katy Perry, Fergie, Rihanna just to name a few. They presented their awe-inspiring collection, Garden of Eden, which is an amalgamation of colour, textures and vivid embellishments on the Day third of the Luxurious India Bridal Week.
More Stories