From politics of representation to the politics of numbers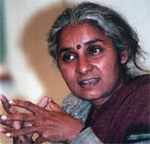 NI Wire, Tue, 22 Jul 2008
The game of numbers was never at its vulgar ebb as it is today. It is clear by now, more than ever before that electoral politics is nothing more than
Aarushi murder case: Who is actual culprit?



Vikash Ranjan, Mon, 14 Jul 2008
Even after CBI's indication that the case is closed, there are still many unanswered questions lingering around on the sensational Aarushi murder case.
Fear of thieves? GPS is at your service!



Shivani Gupta, Sat, 12 Jul 2008
Are you afraid of crowded places just because of the fear of the stealing of your electronic gadgets, which you carry with you everywhere
Did G8 Summit provide answers to India's Energy Crisis?


Dr Rahul Pandey, Sat, 12 Jul 2008
The recently concluded G8 summit in Japan placed rising fuel and food prices, besides climate change, at the top of its agenda. While fuel crisis
Marry to divorce



M Shamsur Rabb Khan, Fri, 20 Jun 2008
The Supreme Court's recent observation that the Hindu Marriage Act, 1955, is breaking more homes than uniting them is worth consideration.
More Stories