Price of LPG hiked by Rs 2.07 per cylinder, ATF cuts by 3.7 percent
New Delhi, Thu, 01 Dec 2016
NI Wire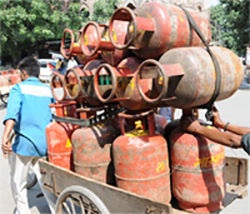 The price of subsidised cooking gas, or LPG hiked by State-run oil marketing companies (OMCs) by Rs 2.07 per cylinder which will be effective from Thursday. While the cost of Aviation Turbine Fuel (ATF) was cut by 3.7 percent.
The revise rates of OMCs of LPG and ATF on the first of every month, based on global oil prices and the foreign exchange rate.
As against the subsidised 14.2 Kg cylinder of Rs 430.64, the cost of the cylinder is Rs 432.71 in Delhi. This is the seventh increase in rates in six months.
In July, to reduce its LPG subsidy outgo, the government had decided on small hikes of around Rs 2 per cylinder every month. This will not much effect to the pocket of a common man.
There was also a hike in the price of non-subsidised LPG, which consumers buy after completing their quota of 12 cylinder by Rs 54.5 to Rs 58.4 on Thursday.
So, in Delhi the price of jet fuel or ATF was cut by 3.7 percent to Rs 48,379.63 per kilo litre Prices may vary at airports and depending on local taxes.
In Delhi, the oil prices also hiked by the continuing fluctuation in global rates due to which petrol price was hiked by 13 paise a litre, while deisel price has been cut by 12 paise, with the corresponding charges in other states, and it will also effective from Thursday.
--with agency inputs