Manali Khardungla Cycling Championship ended with a flourish
New Delhi, Wed, 23 Jul 2014
NI Wire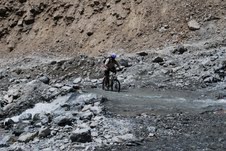 The much-awaited and keenly contested Manali Khardungla Cycling Championship ended with a flourish on the world's highest motorable pass, Khardung La at 18,380 ft. The first-of-its-kind race (no cyclist has ever dared to race on this particular circuit before, daunted by the tough terrain and extreme climatic and atmospheric conditions) was flagged off from Manali on 6th July 2014, and went through various stages, passing through Sissu, Jispa, Sarchu, Pang, Rumtse and Leh, before coming to an exciting finish at Khardung La. Only two riders made it to the final stage - Leh to Khardung La.
The race, which was supported by Wildcraft, saw high drama as the route traversed some of the world's highest motorable passes (or La, which is the Ladakhi term for a mountain pass), like Rohtang La, Bara Lacha La, Nakee La, La Chung La, Tang Lang La and finally, Khardung La.
While declaring the results of the inaugural edition, Northern Escapes and Cycling 4 Change, the organisers of the Manali Khardungla Cycling Championship, also announced that the second edition of "The Race to the Top of the World" would be held in July 2015.
Gaurav Schimar of Northern Escapes, said"The participants exhibited much more endurance, speed and adaptability than we had expected. The winners have definitely set a challenging milestone for the race next year. Things are sure to be much more exciting in the years ahead, as we expect a lot more participation, not only from Indian riders but from international cyclists as well."
Speaking on behalf of Cycling 4 Change, Anil pointed out,"The Manali-Khardungla circuit has never before been raced on, due to the tough terrain and extreme climatic and atmospheric conditions. We are happy to have brought this extremely challenging route onto the world racing map. And the riders have not only proved their mettle but also shown that any route, however difficult, can be done, provided you have the grit, the guts and the determination to see it through."