Manoj Tiwari honored Kashmiri migrants in a ceremony for the displaced Kashmiri
New Delhi, Sat, 10 Aug 2019
Deepak Kumar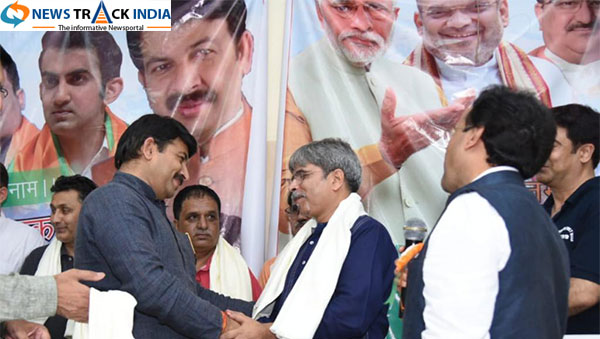 New Delhi: MP and Delhi BJP President Manoj Tiwari honored Kashmiri migrants in a ceremony for the displaced Kashmiri. The honor ceremony was organized for displaced Kashmiris in Lajpat Nagar, Delhi BJP President Mr. Manoj Tiwari was present as the chief guest in the program. The social activist Akhilesh Chandra Shukla organized honor ceremony program.
In the event MP and Delhi BJP President Manoj Tiwari was present as the chief guest who honored the Kashmiri migrants by providing them shawls, feeding them with sweets and hugging them.
Addressing the gathering, Shri Manoj Tiwari said that after several decades of independence, Dr. Shyama Prasad Mukherjee's movement was brought to life by Prime Minister Shri Narendra Modi and Home Minister Shri Amit Shah for which he had sacrificed his life. After the abolition of Section 370 and 35A in Kashmir, peace will also be given to the souls of thousands of martyrs who sacrificed their lives in defense of Kashmir and facing terrorism.
Delhi BJP President Manoj Tiwari said that Dr. Shyama Prasad Mukherjee and Sardar Ballabhbhai Patel had a dream that India should be united and the Bharatiya Janata Party resolved that sections 370 and 35A should be removed from Kashmir and today the biggest obstacle in the path of united India was removing these streams. Both dreams are coming true. He said that now the youth of Kashmir will get the facility of five lakh for free medical treatment for the elderly, their rights will be given to the women, and the brothers and sisters of Kashmir who are suffering from displacement to the audience, get the opportunity of fatherhood and employment in their motherland. After this, no youth will raise stones against the army of their own country.
Social activist Akhilesh Chandra Shukla said that Kashmiri brothers and sisters living in different areas of Delhi will be honored by organizing similar programs and as a social worker, we will work with the society to heal their wounds for decades.
On this occasion Mr. Banshilal Kaul, Sumir Chugh President Kashmir Committee, Vijay Raina General Secretary, Vijay Kumar Bhatt, Sanjay Kaul, PL Kar, Kanwal Chaudhary, Rajesh Raina, Kuldeep Kumar Bhatt, Veer Kant Kaul, Ramesh Dadu, Mr. Ramesh Sadhu, Ramesh Honored Pandit, Mrs. Alagani etc also present in the honor ceremony.