Why BJP will win 2019 Elections?
New Delhi, Sun, 09 Sep 2018
Deepak Kumar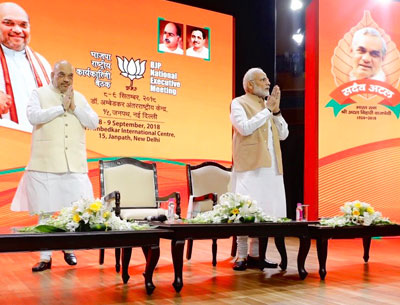 Today we are going to dig the 10 reasons which will help BJP in winning 2019 elections with majority. During 2014 elections BJP elected Amit Shah as BJP party president and party won 2014 general elections in Amit Shash guidance. Bharatiya Janata Party (BJP) decided to extend the tenure of party president Amit Shah until 2019 general elections in national executive meeting in New Delhi. Now BJP will fight 2019 elections under the leadership of party president Amit Shah.
We are exploring the main factor which will give and edge to BJP in 2019 elections. These factors will play a major role in 2019 Elections and help BJP in wining 2019 elections with majority. Let's see 'Why BJP will win 2019 Elections?'
1. BJP Social Media Team
BJP has a big team of social meida experts who will use the power of social media tools to spread the BJP voice among Internet user around the world. BJP will use these powerful medium to spread the work of BJP and make people aware of BJP work done by its party in recent years for the development of people. This will affect the election result in a big way in 2019. Social media and Social media tools will help BJP in winning 2019 general elections.
2. Hindutva
Hindutva is way of life in India; its influencing the society of world and its roots lies in harmony. BJP is the only party which thinks about the Hindu society. Large number of Hindu voters are supporting BJP and casting their votes for BJP. BJP will be benefitted with these voters and this will help in wining 2019 elections.
3. Party Spoke persons and top politicians
Official spokes person and the top leaders of any party play important role in spreading the voice of party among people of society. Almost all the leaders of BJP are best speakers in the politics and they can properly convince people in the society.The main role of these leaders is to properly communicate their work on various platform including debates, elections campaigns, people to people meeting and in large election rally. BJP will be benefited with these leaders to communicate information with the general public in a better way.
PM Narendra Modi, Sushma Swaraj, Sambit Patra, Ravi Shankar Prasad, Arun Jaitley, Amit Shah, Yogi Adityanath are among the top leaders in BJP.
All these factors will help BJP in getting majority in 2019 elections.
4. BJP President Amit Shah
BJP won 2014 election with high majority and formed Government. For these elections Amit Shah was elected as president of BJP for directing the party in the election. In the year 2019 Amit Shah will be president of BJP. Party will fight for election under the guidance of BJP President Amit Shah. The major challenge for Amit Shah is to win 2019 election for BJP, Amit Shah will handle the elections campaigns for BJP.
Amit Shah factor is also very important for BJP and this will help BJP in winning 2019 election with majority.
5. Unorganized Opposition
All the opposition political parties are united against BJP and their one goal is to stop Modi from becoming PM in 2019. Opposition political should work towards the development of country but they are work towards stopping BJP. They still have not selected any face for PM, and just fighting against modi. This shows the weakness of opposition. Weak opposition is also a good sign for BJP and there are high chances of winning 2019 elections by BJP.
6. Weak Opposition leader
There is no powerful leader in opposition and this is good for BJP. This gives an edge to BJP and chances of winning of 2019 election for BJP are very high.
7. BJP as organized powerful party
BJP is well organized and largest party in the country with more than 8 crore members. Large number of BJP workers and its members are the strength of the party. The huge workforce will help in election campaign in 2019 to make BJP successful in 2019 elections.
8. BJP work
In past 4 years BJP worked hard to make India better and powerful country. BJP won 2019 election on the development agenda. Modi led BJP Government worked towards development of the country and many development programs were started by this Government. Top development programs are Swachh Bharat, Ujjwala Yojana, and Construction of roads in villages.
These works of BJP will speak in the election and help PM Modi to win 2019 elections for BJP.
9. News Channels
News Channels will also play an important role in 2019 elections. These channels are organizing debates in prime time and invites political parties to debate on various topics. BJP will take advantage of these debates and promote their work among the people.
So, chances of winning 2019 elections by BJP are very high and Narendra Modi will be again elected for second term if BJP wins 2019 elections.
--Deepak Kumar