First editon of 'Fashion Month' DLF Mall of India presented top biggest autumn-winter trends 
New Delhi, Sun, 16 Sep 2018
NI Wire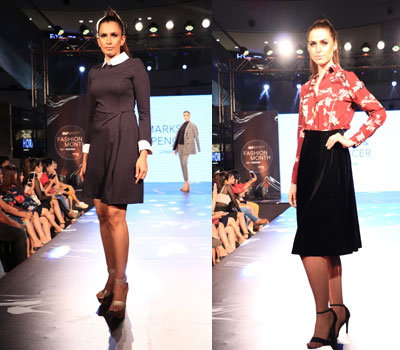 The opening show of DLF Shopping Malls Fashion Month presented some of the biggest autumn-winter trends; events to shwocase a month long spectacle from leading fashion brands.
To set the tone for the first edition of 'Fashion Month', DLF Mall of India presented the opening show on September 15& September 16, in Noida. The event, which will showcase a month long spectacle from leading fashion brands like Marks & Spencer, Gap, Tommy Hilfiger, House of Celvin Klien, Nautica, United Colours of Benetton, Da Milano, Vero Moda, Only, G-Star, DC Shoes, Pantaloons, Cover Story is being presented by DLF Shopping Malls.

A line-up of established labels showcased their futuristic autumn-winter collection and various styles and silhouettes were spotted on the runway. While some designs were more conventional, others took a fresh tone and were bolder in outlook. The collections presented were elite, fashionable &stylish and included looks for party wear, casual wear, designer shoes as well as trendy accessories.
Ms. Pushpa Bector, EVP and Head DLF Shopping Malls said, "We have pioneered the initiative of hosting a fashion event of this scale across our malls and given our most coveted brands a chance to present their latest autumn-winter collection through the medium of ensembles on the runway. We have always believed in empowering our brands and believe that this new format will help reach out to the consumers and provide them with the best in fashion. We aim at making the first edition of the Fashion Month a memorable one and have more such avenues with greater inclusivity of our brands".
The opening show was hosted by DLF Mall of India, Noida. This will be followed by more exiting shows at DLF Promenade on 22nd& 23rd of Septemberand DLF Cyber Hub, Gurugram on 11th& 12th October.The Grand Finale show of the 'Fashion Month' will be held at DLF Mall of India on 21st& 22nd October.
--Staff Reporter