Abhijeet Sawant sings for a Gujarati film Hu Tara Ishq Maa
Bollywood, Tue, 31 Oct 2017
NI Wire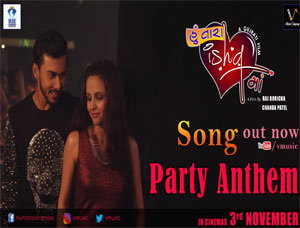 Singer Abhijeet Sawant, who rose to fame as a winner of the first Indian Idol, is back with his soulful voice.
Abhijeet has lent his voice to the Gujarati flick "Hu Tara Ishq Maa" Party Anthem under the production of Blue Diamond Production House, which is released by V Music. It's a party number where you can't just go off the beat.
Abhijeet has sung "Yaaron Ke Yaar" Penned by Dilip Rawal and Music directed by Varun Likhate a Hindi track in the Gujarati Movie featuring debutant Suraj Kumar and actress Priya Soni.
People these days plan a party every weekend, after the long hectic working week. No party is complete without Dance Party Songs, Hu Tara Ishq Maa gives you must have a party song on your list.
The film directed by Raj Boricha and Chanda Patel produced by Chanda Patel. The film is all set to hit the theatre on 3rd November.
YAARON KE YAAR Hu Tara Ishq Maa Abhijeet Sawant, Suraj Kumar, Priya Soni, Chanda Patel