Yoga is for All Humanity which will bring the world together: Modi
New Delhi, Sun, 21 Jun 2015
NI Wire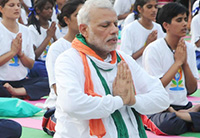 Prime Minister Narendra Modi has said that he is indebted to the world for making International Yoga Day a success. He was addressing during the conclude function at the International Yoga conference in New Delhi.
During his speech, Modi said that International Yoga Day is not the brainchild of a government or United, it is a movement of people whose lives have been changed by Yoga...we will take this movement forward.
He further said that the ancient Indian tradition is the medicine to let one live life to the fullest. There are yoga practitioners in every continent of the world.
Modi said that practice of Yoga leads to reduction of greed, coarseness and violence in an individual. It creates courage and strength and a healthy body and disciplined mind is the foundation of a world without fear.
Yoga is not a sellable commodity. Yoga is for all humanity, we should not make it an exclusive preserve.
Meanwhile the mega event witnessed participation of more than 35,000 people including school children, NCC cadets, army personnel and officials organised at Rajpath in the Capital.
It is noted that the Ministry of AYUSH had set sights on registering the event in Guinness Book of World Records for "largest yoga demonstration or class at a single venue and largest number of people of various nationalities performing yoga at one place".
It is noted that the celebrations were held in the national capital after the United Nations had in December declared June 21 as International Yoga Day, with 177 countries voting in favour of the resolution.