'Piku' film review
Mumbai, Fri, 08 May 2015
NI Wire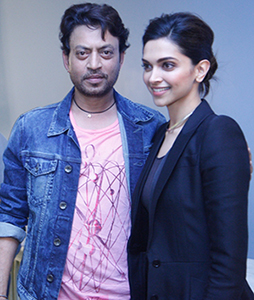 Most awaited Hindi film starring Amitabh Bachchan released today in box offices in India. Bollywood stars comes out in praise for the movie.
Mumbai, May 8, 2015: 'Piku' Film is comedy - drama Hindi movie which is more family drama film filled with funs. This film is delivering unique filming experience.
The family drama type of movie is very good to have a fun and it is a must movie to watch.
While Piku, Baba and Rana get ready to welcome the audience into their crazy world in cinemas today, the Piku family seems to have already impressed Bollywood. Here are some reactions to the Shoojit Sircar-directed film...
'Piku'is a family comedy dramaand had been highly awaited. B-town was absolutely touched by the film.
Anurag Basu said, "Can't remember the last time I laughed so hard #Piku is outstandingly adorable @SrBachchan@irrfan_k@deepikapadukone@ShoojitSircarHatsoff. @ShoojitSircar - Hrishikesh Mukherjee of our Generation!! #Piku"
Producer Siddharth Roy Kapur, praised the film and said, "I thought Shoojit's direction, the performances, Deepika, Irrfan and for me, above all Mr. Bachchan, who it's such a joy to see playing a character like this."
The film also left producerVikramaditya Motwane in awe. He revealed how much he loved it and said, "It's really a feel good film. It's lovely. It's warm and very good."
Madhur Bhandarkar tweeted, "@deepikapadukone is a revelation yet again in #PIKU. With each passing film you're entering a league of urown.More power to you! God Bless.#PIKU is a GORGEOUS, slice-of-life film that tugs at your heart strings. TAKE A BOW! @SrBachchan@ShoojitSircar@deepikapadukone@irrfan_k"
Director Sajid Khan said, "I just saw Piku & I'm extremely happy because it's one of those rare films which are so simple in nature & storytelling that you feel like you've just been through a breath of fresh air, but for two hours that's how you feel when you walk out the theatre - elated! "
Ranveer Singh tweeted, "PIKU ..Absolutely marvelous!!! @ShoojitSircar@writeonj take a bow! RIP-ROARING (!) heart-warming, endearing & poignant...sheer quality!Pure magic in th performances by @SrBachchan@irrfan_k & a career-best display from @deepikapadukone..Bravo!! (And no, I'm not being biased)"
Shraddha Kapoor said, "Guyss u have to watch #Piku coz it is suchhhh a cute film &@SrBachchan@irrfan_k@deepikapadukone are sooo amazing & lovable!. Sidharth Malhotra said, "#Piku is Lovely funny endearing @deepikapadukone is exceptional irfan is a super romantic n @SrBachchan is just the best!thank u Shoojit sir"
Vidya Balan quipped, "It was delightful, enjoyed the film. It's just, kudos to the entire team. To watch Mr. Bachchan in a role like this is just lovely."
Sushant Singh Rajput tweeted, "Piku is a very special & a rare Gem.@deepikapadukone is effortlessly magnificent.@ShoojitSircar@SrBachchan@irrfan_k take a bow!!"
The elegant Dia Mirza tweeted, "140 characters not enough to describe what this movie feels like #Piku! So so so special. I LOVE #PIKU". Popular comedian Kapil Sharma said, "Congrats to the team of Piku @SrBachchan@irrfan_k@deepikapadukone n special congrats to @writeonj n @ShoojitSircar wonderful job. #piku"
Not one to be left behind, actress Nimrat Kaur also praised the film, "Deepika's fantastic, Mr. Bachchan, I have never seen like that in my life, and Irrfan, is amazing as ever. And Shoojit & the writer of the film, they're so brilliant!."
Ayushmann Khurrana tweeted saying, "His language, his body language. @SrBachchan is adorable in #PIKU! @deepikapadukone gives her natural best! And Irrfan is effortless!Background needs a special mention. The sound of sarod gives you goosebumps. @writeonj is a mastercraftswoman (that's not even a word) #PIKU"
Looks like this Piku and her Baba have a really touching story to tell and we can't wait to see them reveal it for ourselves!
View More : 'Piku'