Top 10 Business Books Every Entrepreneur Must Read
New Delhi, Fri, 16 Aug 2013
NI Wire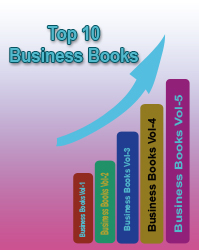 Business knowledge, inspiration, skill set and business acumen for centuries have been most sought after things and in every age the greatest business practitioners left their achieved knowledge and skill set in the form of books for the successive generation to gain insight and put them in practice. To select top 10 business books that every entrepreneur must read the choice is huge, particularly among the volumes of great motivational business books that have been written so far. In the past few decades there has been a great development in managerial skills and acumen that gave rise to an array of specialist business thinkers and leaders and some of the most revolutionary business ideas belongs to them. We tried to present here books representing greatest business ideas, motivational rigor, most effective skill set and business philosophy by some of the most influential business thinkers of our time. Here are our picks on must read business books.
Competing for the Future: By Gary Hamel and C. K. Prahalad

There is hardly any business book ever that has come with such wide ranging visionary impact on the world of business. Yes, with this book Gary Hamel and C.K. Prahalad almost revolutionized the concept of business strategy. The book argued on a number of key business ideas and topics and instituted a completely different thinking pattern for the business managers to deal with the changes. They advocated for the need of orienting with the core competence area of a business establishment to make a trend setter rather than just coping up with the emerging situation. For years it remained one of the must read business books for the business decision makers all over the world.

How to Win Friends and Influence People: By Dale Carnegie

Though this world famous book should be categorized as a business book as for millions of people in either business world or outside of it this book served as a guide to lead their life to achieve success, this book profoundly changed the business personality and attitude across the industries and hence is a must pick in our list of top 10 business books every entrepreneur must read. According to Carnegie 15% of a man's so called success accounts for his technical abilities but 85% accounts for relationship building, leadership and communication skills.

7 Habits of Highly Effective People: By Stephen R. Covey

Every business manager or professional are not effective in the same way but why it is so? Yes, you can argue on the difference of education, upbringing and communication skills and thinking patterns, but Mr. Covey would just win your heart with his superbly exemplified argument on the necessity of acquiring some simple living habits to become effective in interpersonal spaces and in business arena to ensure success. While following and chasing success is so dearly passionate an undertaking for millions of people this book can really serve as a key. It is as per the sales figure, one of the best selling leadership training books of all time which is not a small feat for a book written simply on the commonest aspects of our life and their potential to change our life.

Guerrilla Marketing: By Jay Conrad Levinson

The naming of the book is perfect as it almost boils down to finding a revolutionary marketing tactics just in the same fashion guerrilla warfare changed the so called tradition war tactics. After all marketing is a bigger and prolonged ware and takes more nerve than many conflicts that end in bloodshed and death. Many marketing ideas expressed in this book changed the way products used to be sold, publicized and the way brands used to given shape. Conrad advocated on the low profile small budget marketing and publicizing campaigns instead of really going all out with tons of spending from company's cash reserve. Sounds dull but he actually made marketing more brilliant and smart and shown even small ventures can hit great marketing through effective and intelligent marketing. Many ideas of this book are now industry benchmarks.

Republic of Tea: By Bill Rosenzweig, Patricia Ziegler, Mel Ziegler and M Ziegler

For any dreamer who ventures to realize his own business dream must read this captivating business chronicle to get more than just common inspiration. Written by the phenomenally successful entrepreneur partners of Banana Republic Chain this book chronicles the fear, depression, anxiety of three business persons when they were in the process of pursing their dream venture that after all dilemma and struggle came with a big success. In the way to become an entrepreneur more than so called skills and money concerns it is your motivational aspects that you have to deal most and that struggle has been narrated in a captivating chronicle by the authors.

Rise of the Creative Class: By Richard Florida

The exact title is much longer that reads like this 'Rise of the Creative Class and how it's transforming work, leisure, community and everyday life'. Among the must read business books we are discussing here it is one of the most thought provoking ones as it focuses on the diverse range of changes in our present day lifestyle that became more delicate with choice, more particular incorporating a lot of new elements in our everyday taste and attitude. The book points out to the array of events in the American history and the economic changes that took place and corresponding vulnerability of many business ideas facing the challenge of change. The book equally draws on storytelling skills and research on new business ideas, undoubtedly a provocative work to stay and linger in our thoughts for a long time.

Art of Possibility: By Rosamund Stone Zander and Benjamin Zander

Much in the fashion of probability theory the book argues on the need of incorporating variant aspects of possibility into the business decision making and business environment as such. With great story telling techniques the book provides psychological insight to how in everyday life the possibilities play decisive roles in every single instant and how it changes the way we think business, decision making and everything that has any role in our life. The book is a creative outcome of a philanthropist conductor and teacher and a psychotherapist and for business world it is lot more than just a creative gust of wind. It showcases a paradigm based on possibilities intertwined in our life that can be put to use anywhere, within the broader premise of business or communicative world.

Good to Great: By Jim Collins

In considering the top 10 business books every entrepreneur must read we just cannot leave aside this modern masterpiece that in every respect is a perfect analysis of our business world. Jim Collins' famous explanation and captivating argument on why some companies make the leap while others don't already considered a all time great book of business insights with thought provoking explanations and thoroughly exemplifying temperament that does not leave anything for granted. This book is an analytical genius with all Fortune 500 companies have been analyzed over a period of time to boil down the analytical focus on 11 companies that have been successful in maintaining excellence over success. Good to Great is business education and thinking training at its best.

Essential Drucker: By Peter Drucker

Peter Drucker is a world famous business leader, social commentator and management guru recognized throughout the world for his array of thought provoking business ideas, unbiased business visions and crucial business acumen exemplified all through his volumes of business writings as a professional or as a teacher. This superb lean book is an irresistible pick in our list of must read business books because it showcases almost all the best Drucker pieces at their best. In twenty six chapters the book covers almost the entire oeuvre of this world famous management legend, from management principle to problems, challenges, opportunities and almost every aspect of business management.

Financial Intelligence: By Karen Berman, Joe Knight and John case
Probably never those so called mundane world of business numbers in everyday workplace have been so important before you read this book and tried to think in the same fashion as the author proposes you to think. Financial intelligence is all about business insights gained from the business numbers. Analyzing business numbers how you can gain grasp over business reality it makes a perfect and convincing narrative on that with befitting examples and exemplification of real life scenario.
Honourable mention: Magic of Thinking Big by David Schwartz
Magic of Thinking Big is a gem that no listing of motivational books or must read business books can ignore from their list. How attitude towards bigger goal setting and bigger conviction can transform you and can lead you to bigger roles in life, is narrated with brilliant real life portrayals and exemplifications. Reading this great book you can start thinking bigger and the so called dreams would lose their countenance as dream and transform into reality with your power of conviction. That is the magic!