Latest Breakthroughs in Diabetes Research
New Delhi, Tue, 02 Jul 2013
NI Wire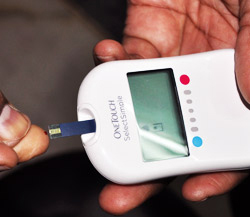 It is now more than half a century that we are facing the increasing onslaught of diabetes. In spite of billions of healthcare dollars spent on diabetes research and treatment still by large we are only equipped to control the disease and make conditional treatment, but in the recent times some of the latest breakthroughs in diabetes research are showing us new hope of conclusive care of the disease in the near future. From artificial pancreas to produce required level of insulin to unveiling the close kinship between obesity and diabetic condition, the potential of these research findings is immense and truly path breaking. While in some healthcare facilities glucose monitoring and insulin pump as part of the real time diabetes management system is already in use, in many parts of the world researchers are zeroing on the problems related to body's resistance to insulin.
Number of diabetes patients are increasing all over the world at a skyrocketing speed and in corresponding to that medical initiatives and researches are focusing on diverse areas of study for coming up with a conclusive treatment of diabetes. For years insulin injection and a few supportive drugs have been in the center stage of diabetes treatment and in spite of global consensus on the onslaught of diabetes it is steadily spreading across different age groups and claiming lives regularly. According to World Health Organization presently 176 million people across the globe are suffering from the disease and 95% of the patients among them are suffering from mainly Type 2 diabetes. So, research, medical breakthroughs and path breaking findings corresponding to various factors leading to diabetic condition are of seminal importance to the medical community and people of the world and that is precisely the inspiration to make us present here many important research findings and initiatives concerning the disease. Let us now have a look at some of the most promising and latest breakthroughs in diabetes research.
Integrated Real Time Glucose Monitoring System and Insulin Pump

This sophisticated monitoring and insulin regulating technology in real time undoubtedly deserves to be dubbed as one of the latest breakthroughs in diabetes research. When recently FDA approved this real time glucose monitoring system and insulin pump for regulating diabetic condition it was hailed as a great leap forward to combat diabetes for healthcare facilities. The closed loop insulin delivery system coupled with the monitoring of glucose can really revolutionize the diabetes care. Diabetes posing the greatest challenge for the healthcare providers considering the typical nature of the disease that demands time to time monitoring before it poses substantial health threats can now be answered with this sophisticated mechanism and can be a great aide in keeping check on glucose level in therapeutic conditions.

How brain hormones play instrumental role in regulating diabetes and metabolic functions

For a long time researchers all over the globe were having their eyes fixed on the functions of brain hormones in regulating metabolism and insulin production that in effect actually is instrumental for causing or preventing diabetic condition. The role of brain hormones in the metabolism of fat cells is already well known to the medical community and keeping that in mind the scientists for some time were zeroing on the influence of these brain hormones in causing diabetic condition. Some latest findings on the role of the brain hormones in causing diabetic condition unveiled great many paths for the future diabetes medication to take shape. Hypothalamus is a central region of the brain that is responsible for regulating crucial organic behaviors and functions like appetite, food intake and corresponding metabolic rate and body weight. Recently researchers of American Diabetic Association unveiled some truths concerning how the fat cell hormone called leptin and glucose regulatory hormone called insulin work in this area to control blood glucose which can be instrumental in causing diabetes or preventing it.

Key role of digestive system in causing diabetes

The role of the beta cells of the liver and the pancreas in producing insulin is well known which is the core factor in causing diabetes, but recently the role of the digestive system in relation to metabolism and diabetes paving the way for a new approach to malfunction of metabolism and regulation of blood glucose. The researchers said an insulin regulated enzyme called Fatty acid Synthase or FAS is linked with the chronic inflammatory condition of the intestines or gut which contributes to the typical insulin resistance in the type 2 diabetes. A majority of type 2 diabetes patients basically suffer from insulin resistance than any other disorders and so this new finding is really one of the prominent latest breakthroughs in diabetes research.

New findings on the influence of diabetes in deteriorating brain function

Though diabetes has never directly been associated with the deteriorating of brain function, it has been observed that older people are more vulnerable to diabetic conditions and as soon as they develop such conditions their brain functions tend to deteriorate at faster pace. But as diabetic conditions are increasingly affecting people of younger age group it is becoming apparent that the deteriorating brain function has something to do with diabetic condition. As per the findings of latest research diabetes can significantly decrease the blood circulation in the brain and also can weaken small blood vessels in the brain which lead to tissue damage. Thus people with diabetes can actually be more vulnerable to deterioration of mental functions responsible for day to day living tasks and executing other cognitive functions. According to researchers diabetic people are more vulnerable to Alzheimer's disease, dementia and other nervous disorders than people who are not primarily diabetic.

Key role played by insulin signal in brain in fat metabolism and diabetes

Undoubtedly this latest research finding on the role of insulin signal in brain affecting fat metabolism and regulating blood glucose is one of the latest breakthroughs in diabetes research. The researchers of American Diabetes Association found that the insulin hormone in one key portion of the brain is responsible for controlling the function of the fat tissue which is responsible for developing resistance in type 2 diabetes. In Type 2 diabetes the process of breaking fat tissues continues to be unrestrained even when the body does not need any additional energy. Thus excessive fatty acid is produced and creates harmful saturation of fatty acids in all vital organs and body parts that ultimately results in insulin resistance. The role of insulin signal in brain is truly a great finding for future diabetes treatment to take shape.

New breakthrough on how insulin works at the molecular level

For years insulin as an hormone has been synonymous to diabetes care and we all know how crucial role it plays in regulating blood glucose and thus creating healthy metabolism, but no one could have any idea of how insulin functions at the molecular level inside the body and that is precisely the research findings unveiled by US-Australian researchers at Eliza Hall Institute of Medical Research at Melbourne is all about. For the first time a team of researchers could provide us detail on how the insulin hormone binds to the surface of cells and thus create the pathway for the glucose through the blood to be used as energy later when the body needs it. Undoubtedly in the global fight against diabetes this molecular findings on how actually insulin works can pave the way to more therapeutic drugs and successful results.

Discovery of betatrophin dubbed as diabetes hormone to replace artificial insulin

This is probably the most striking among all the latest breakthroughs in diabetes research and scientific community already accorded the name diabetes hormone to this hormone which has been found to produce some wonder results in curing diabetes condition in mice. Researchers at Harvard Stem Cell Institute (HSCI) came up with the revolutionary finding that a hormone called betatrophin can play a great role in boosting the beta cells to produce more insulin. Though the research has been carried out only on mice and still left to be tested on human, it can as well be the most significant and revolutionary leap to find the conclusive drug to treat diabetes.

Transplanting healthy insulin producing cells in the pancreas

Just think of a situation when for treating your diabetic condition healthy insulin producing cells are transplanted into your pancreas and thus you at last come to an end of the long years of suffering from diabetic condition. It sounds amazing and unbelievable, isn't it? Yes, such things were crazy ideas to the medical practitioners, but with the new research findings and discovery of the new method to transplant healthy cells in the pancreas, it is no more just an idea but soon can be the path breaking formula in the determined warfare against diabetes. Researchers at Bell Gurion University of Israel in collaboration with Harvard, Columbia, Stanford and Colorado University at last discovered the method of such revolutionary cell transplantation in pancreas.

Breakthrough finding in the role of nervous system in insulin production

Among the latest breakthroughs in diabetes research all over the world this one is a shocking one, so much so that it even shocked the researchers who were working behind it. There has been long years of speculation that our neurological functions can have some influence in causing diabetic condition, but until now there has not been any substantial proof to validate it and so this research can be dubbed as the end of such speculation and beginning of a new era in the research on finding conclusive treatment for diabetes. Researchers at Toronto hospital at the end of their ground breaking research found that our nervous system can trigger diabetes According to the researchers pain neurons in the body's pancreas primarily give signals to the brain that the tissue have been damaged and so gradually diabetic condition sets in. On the contrary when the researchers disabled the sensory nerves in the pancreas of mice by injecting capsaicin or the hot ingredient of chili pepper, suddenly the pancreas started to produce insulin and diabetic condition passed away. As one researcher put in baffling words that the mice affected with diabetes suddenly got rid of it.

Artificial Pancreas, ground breaking medical technology to cure diabetes
After more than a decade long research on how to supply insulin steadily to the victims of diabetes, particularly who are suffering from the insulin dependent Type 1 diabetes, the team of researchers at the Medtron Inc. at last came up with their great innovation to combat insulin dependent diabetes. Yes, this dazzling discovery that baffled the scientific community with renewed hope and awe is none other than artificial pancreas. Pancreas are responsible for producing the insulin hormone that regulates the blood glucose and in type 1 diabetes the insulin producing cells in pancreas are destroyed and consequently the patient suffers from extreme diabetic condition leading to critical complications. Artificial pancreas comprises of a glucose monitor or sensor and an insulin pump equipped to supply insulin as and when the body needs it. This typical technology can reduce the typical type 1 diabetes life threats and critical conditions to a great extent without needing the patients to undergo constant monitoring for the risk factors concerning blood glucose regulation.