Democracy without Democrats!
Jaipur, Sun, 30 Dec 2007
Madhuri Vasnani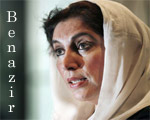 Dec 30: It is incumbent upon every Muslim to condemn murderous acts as not only un-Islamic but as repugnant.

Mrs. Bhutto's father, former Prime Minister Zulfiqar Ali Bhutto, a democratically elected leader, was dismissed from the office in 1975, and hanged in 1979 by then-Pakistani strongman Zia-ul-Huq for conspiracy to murder the father of a political opponent. After succeeding her father and mother as head of the Pakistan People's Party (PPP), Mrs. Bhutto declared herself "chairperson for life" – a position she would hold until her death. In 1988, after Zia's death, she was able to return to Pakistan from exile in the United Kingdom.
In November 1988 elections, the PPP won the largest bloc of seats in the National Assembly. Mrs. Bhutto was sworn in as the first woman Prime Minister to govern an Islamic State in modern history. She advocated a conciliatory policy toward Islamists, especially the Taliban regime in neighbouring Afghanistan. But subsequently her views changed, and she emerged as an outspoken rival of the jihadists. Though she was a strong believer of women rights and media freedom but her stand towards mullahs, one of the influential institutions proved hard for her.
In 1990, President Ghulam Ishaq Khan dismissed Bhutto from office amid charges of corruption and her husband Asif Zardari was also sent to prison. On July 18, 1993, Mrs. Bhutto returned to power, after the resignation of both President Ghulam Ishaq Khan and Prime Minister Nawaz Sharif. During her second tenure, Benazir again faced trouble from the opposition. In 1994, Nawaz Sharif led a "train march" from Karachi to Peshawar. This was followed by general strike on September 20, 1994. Two weeks later Nawaz Sharif called a "wheel jam" strike. The second tenure of Benazir Bhutto was, however, highlighted by the visit of the US first Lady Hillary Clinton and her daughter Chelsea in 1995, which has considerably changed the world's perceptions about Pakistan and highlighted Pakistan as a liberal, modern and forward-looking country.
She deposed for second time in 1996 and sent to self-imposed exile in Dubai; her husband spent eight years in jail. However, she continued her struggle against the charges and her fight to bring Pakistan on the track of democracy.
In 2003, five years after Mrs. Bhutto went into exile for the second time, she and her husband were convicted in Switzerland of money laundering and for receiving bribes from Swiss companies during her second term as prime minister. After eight years in exile, she returned to Karachi on October 18, 2007 to prepare for the 2008 national elections.
In the final months of her life, she was subject to constant fatal threats from jihadists linked to Al-Qaeda and the Taliban. The tragic twist took place in the history of Pakistan on December 27, 2007 when Mrs. Bhutto was assassinated during a campaign rally in her homeland; she is now remembered as a woman with a tragic destiny. Riot and violence spread across parts of Pakistan, leaving hundreds of people dead, following the assassination of Benazir Bhutto.
Although Pakistan's Government asserted Friday that Al-Qaida was behind the assassination of Benazir Bhutto, and offered the transcript of a conversation as proof. The assassination of Mrs. Bhutto is a tragic event for Pakistan and for democracy in Pakistan. Her murderers must be brought to justice and Pakistan must continue the path back to democracy and the rule of law and there should be an end to terror and assassinations.
* The author is Assistant Editor at CUTS International, an advocacy group, Jaipur.