iPhone XR (iPhone 11) getting a camera bump, iPhone 11 expected to come with dual-lens rear camera
New Delhi, Sat, 27 Apr 2019
NI Wire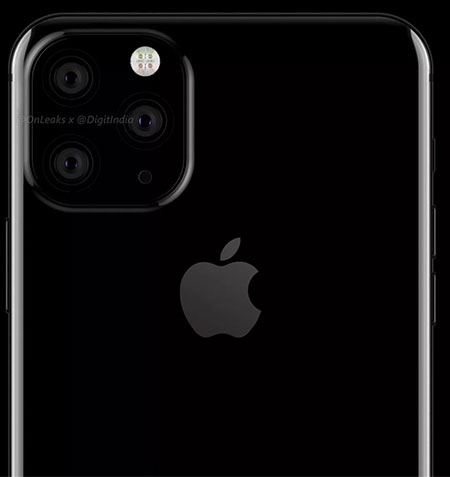 Latest leaked images of iPhone 11 (iPhone XR) clearly shows the dual-lens rear camera; which is a major camera bump that iPhone XR is getting.
A massive iPhone leak claiming to be the next iPhone 11 shows new lens which is fitted as rear cameras in the phone. The leaked photos are showing that the phone have dual-lens rear camera, probably Apple is working on the major upgrade of camera. These days' top Android phones are coming with dual, triple and even penta-camera setup. So, to meet tough market competition Apple might be working on the latest camera upgrades.
In the last few months we have seen so many leaks about this new iPhone and current release is another major addition to the leaks. This leak suggests that the next version of iPhone will have major camera update. According to this leaked image iPhone XR will have much better photo capability through dual-lens rear camera setup.
According to media reports Apple will add AI enabled software in iPhone models releasing in 2019 and this will help in taking better photos. It might take DSLR quality pictures due to camera + AI software combination.
Recently Nokia launched Nokia PureView with 5-rear camera setup and the performance of this camera said to be very good. The camera setup of Nokia PureView can take very high quality images with in-depth details.
The Japanese blog Mac Otakara says that this information came directly from those in the supply chain in China. This means the leaked details might be very correct and iPhone XR is coming with the dual-lens camera setup.
There were similar rumours earlier so you can guess that the Apple is including powerful camera setup in upcoming iPhone devices.
It is confirmed that the iPhone 11 and iPhone 11 Max will get triple-lens rear cameras upgrades.
According to Mac Otakara, two out of the three lenses on the more expensive iPhones of 2019 will use the same lens used in iPhone XR model. This is to keep the manufacturing costs down so phone get available to the end users at affordable cost.
Apple will be using 3D-molded glass in all the three iPhone coming in 2019.
The 18W fast charging is a trend in 2019 and most of the top phone models are coming with fast charging support. Apple will also follow the same trend and expected to include 18W fast charging in its upcoming models.
There is still no official information about the date and place of release of iPhone 11.