Second phase of Lok Sabha elections recorded 67.84% turnout: EC
New Delhi, Thu, 18 Apr 2019
Deepak Kumar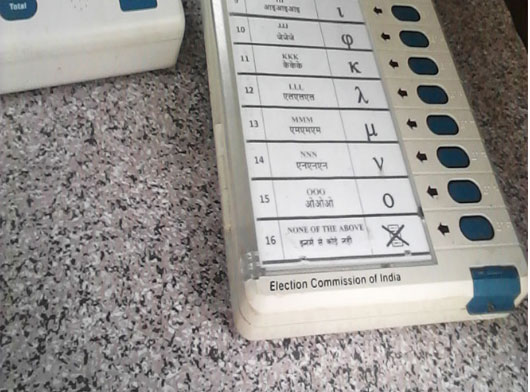 Election Commission of India released the statistics of second phase of Lok Sabha elections. According to the Election Commission a 67.84 per cent voter cast their votes in the second phase of Lok Sabha 2019 elections.
There was no major incidents of violence in the second phase of elections and pooling went off peacefully. Sensor deputy Election Commissioner Umesh Sinha said that barring sporadic incidents of violence, polling for elections went of peacefully across all the polling stations in the second phase of elections.
During the second phase of elections for Lok Sabha pools on Thursday, a 67.84 per cent turnout was recorded. In the second phase of elections, voting for 95 seats across 11 states and a Union Territory was peacefully done.
In the second phase polling was held for 95 Loak Sabha seats across 11 states, in Tamil Nadu voting for 38 of its 39 constituencies was done. Polling was also done in union territory of Puducherry.
The voting was cancelled in the Vellore constituency of Tamil Nadu over the fear of abuse of money power. Poll was also postponed to April 23 in Tripura (East) due to security reasons.
Two violence-related deaths were reported in the past 24 hours including a woman polling personnel who was killed by suspected Maoists on Odisha.
There has been some report of voting machine being damaged in Manipur and Uttar Dinajpur in West Bengal.
The lowest turnout for voting was 43.4 percent in Jammu and Kashmir. Highest voting turnout was 78 per cent in Puducherry.
In India currently Election commission is conducting voting for Loak Sabha for 543 seats in seven phases. Phase wise dates for the Loak Sabha elections 2019 are April 11, April 18, April 23, April 29, May 6, May 12 and May 19.
The counting of the votes will take on May 23 and this time results may be delayed for 5 days due to counting of VVPAT slips. Various parties are asking for 50% verification of VVPAT slips. Election commission already announced that there may be a delay of 5 days due to counting of VVPAT slips.
In the second phase elections voting was done in Assam, Bihar, Jammu and Kashmir, Karnataka, Maharashtra, Manipur, Odisha, Tamil Nadu, Uttar Pradesh, Bengal, Chhattisgarh and Union Territory Puducherry.
--Deepak Kumar