Ayla Networks and Tata Elxsi Band Together To Remit the Best Value-Added IoT Services to CSPs
New Delhi, Tue, 18 Sep 2018
Deepak Kumar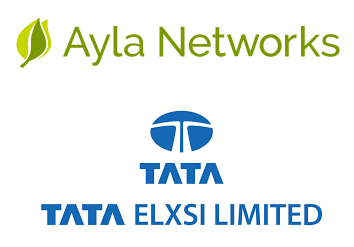 The IoT Solutions provider and industry leader Ayla Networks have decided to join hands with Tata Elxsi, an international design and technology services provider to become the best aid for Communications Service Providers (CSPs) in achieving their business goals. The California-based company and the Indian partner announced their strategic partnership on Monday at the International Broadcasting Convention (IBC) in Amsterdam. The two companies will use their respective expertise in developing and delivering IoT offerings that would enable the CSPs put up with the growing demands in giving customers an improved experience, as well as, implementing reliable and sophisticated IoT services and solutions.
The CEO of Ayla Networks, Jonathan Cobb said that the IoT has great potential to create unparalleled value for CSPs as they empower them for dramatic improvement in the customer experience while carving new revenue streams. However, he added, in order to leverage IoT Technologies adequately, specialised skills and expertise are the key. He added that the process involves "integrating the range of new connected devices and the data therein into new communications infrastructures and making them interoperable, scalable and secure. Together Ayla Networks and Tata Elxsi can help CSPs successfully navigate this new landscape."
Speaking on behalf of Tata Elxsi, Nitin Pai, who is the Senior Vice President and Head of Marketing and Strategy, commented that Tata Elxsi and Ayla Networks have collaborated to tackle the real challenges that operators are facing at present. By real challenges he referred to the taxing process of selecting the best possible IoT technologies and ecosystem partners to the after selection implementation, scaling, management and deriving maximum benefit from the IoT offerings. Pai said that the organisation looks forward to work with Ayla Networks and assist CSPs in attaining their IoT goals.
The partnership of Tata Elxsi and Ayla Networks is a move aimed at reducing the time and hassles that are invested in monetising new revenue sources across the IoT applications of the CSPs. The strategic unification of the world class integration services, in terms of design execution and delivery for service providers, with the ace global platform for connectivity and device management seems to be a very apt deal for the future of CSP.
The pure-play IoT platform by Ayla Networks runs across the cloud, devices and applications to render secure connectivity, data analytics, as well as, feature-rich experience for the users, be it the customers or the end consumers. On the other hand, the Bangalore-based Tata Elxsi, a part of conglomerate Tata Group excels in product engineering and solutions that is extended to broad spectrum of industries. The Indian company has won several awards and patents for innovation and design.
--Deepak Kumar