Four Technology Trends that will Change the World in the Next Decade
New Delhi, Tue, 18 Sep 2018
Deepak Kumar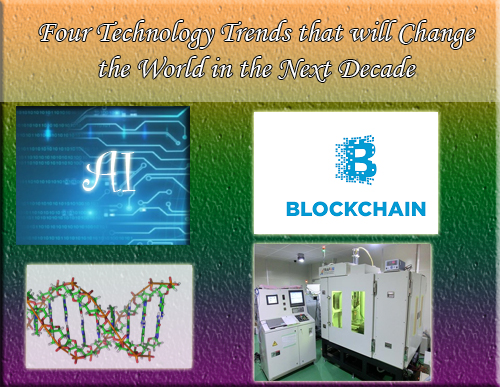 Consider an urban Indian in their forties today, reminiscing their twenties. This takes us back to the turn of the new millennium. Pagers were ubiquitous and basic mobile phones had just popped up here and there, but even then our protagonist couldn't have imagined he/she would be able to video call their friends and book everything from food or a movie ticket to flights/ train ticket from their mobile phone. That's the pace at which computing and connectivity evolved in the past two decades. And yet we are already talking about the demise of mobile phones, well at least its handheld variety.
Technology is changing at such breakneck speed that both specialists and laymen are finding it difficult to keep pace. Some like pagers come and disappear quickly while others stay longer and leave a huge impact. Let us now take a look at what developments in technology are likely to be global game changers in the next decade and perhaps longer. Opinions vary, but there are some broad trends that find consensus among researchers from both academia and industry.
Artificial Intelligence
AI is without doubt the most hotly debated and feared technology domain today. From robots fashioned after the human body to home devices like Alexa, AI takes many forms and combines with other technologies such as in driverless cars. We are already getting a taste of what AI can do many of us own a virtual assistant; Gmail has rolled out a feature that anticipates and composes our response to an email; and highly complex video game characters that can learn your behaviors and even throw surprises are very common now.
While all this sounds fairly benevolent, AI has also given rise to several apprehensions. On the one hand several leading thinkers have expressed concern over massive unemployment resulting from AI taking over the workplace. There is also the question of security in the context of AI controlling everything from self-driven cars to power grids and automated weapons. In a broader context, thinkers are also debating the possibility of strong AI outperforming the human intellect through ongoing self-improvement. All said, this is one trend that is highly unlikely to be abandoned or reversed before it goes through the full lifecycle and paves way to an even better way of doing things.
Blockchain and Cryptocurrency
The most well-recognized application of blockchain technology today is in cryptocurrency. Cryptocurrency such as Bitcoin is illegal in India as yet, and for this reason most of us are still not up-to-date on how these work. Bitcoin remains controversial worldwide, but at one point in 2018 a coin cost $19,000. Prices went down, but a single coin still costs thousands of dollars.
It is easy to understand why cryptocurrencies are likely to stay and become mainstream. Cryptocurrency is only the next logical step in a world of blurring international borders. It will increasingly allow individuals to buy and transact with anyone across the globe. As transfers are done over a secure blockchain that saves a ledger of all your transactions to thousands of peer systems across the world, chances of fraud are minimized.
The technology behind cryptocurrency, blockchain is already finding applications in healthcare, protection of identity and copyrights, supply chains etc.
Regenerative Medicine
Organ transplants and pacemakers have been around for decades, but medical science today is far ahead than these thanks to advances in gene and stem cell therapy. Doctors are beginning to grow body parts from patients' own cells. Another exciting development is the possibility to use stem cells to repair and regenerate body cells. Efforts are also on to use stem cell therapy to reverse diabetes and heart disease, and expand human lifespan.
Along with these, scientists are toying with the idea of applying AI and synthetic/bio-mechanical brains to preserve an individual's mind/consciousness into eternity. The mind/consciousness may even be transported into a human-like robot when the biological body reaches its limit. Immortality of the former kind is already part reality as most of us leave behind a significant volume of digital footprints on the Internet, which continue to live long after we are gone.
3D Printing
The possibilities of 3D printing are endless. It allows production of everything from cars and houses to body tissue, bones, implants and even organs. And some of this is already happening, and at unbelievable speeds and surprisingly low costs. Apis Corporation announced in March 2017 that they produced a 3D printed home in 24 hours and for $10,000 compared to the conventional prices in the range of $200,000 for an average house. China reported one of the first 3D printed spine implants that was used for a boy. The first 3D printed liver may happen as early as 2025 going by the pace at which the pace at which the healthcare industry is adapting 3D printing to its requirements.
It is small wonder this technology is exciting news for mankind. It offers solutions to several of our quests such as better health and economical and affordable housing.
--Deepak Kumar
Ads:
RoseIndia.Net is offering online tutorials in many programming technologies. Learn Java, JSP, EJB,JDBC, Servlets, Hibernate, Spring, Big Data, Bioinformatics, Java Server Faces, Struts, XML, MySQL, Web development, PHP and other Technologies. Online training offers: Best Online Training for Big Data and Hadoop, Big Data and Hadoop Training, Big Data and Hadoop Training in Delhi and Big Data and Hadoop Training - Online and classroom. Take advantages of these training courses and become master in Big Data industry. We are also offering Big Data Application Development Services and Software Outsourcing Services India.