Embassy of Denmark in India expresses deepest condolence on Atal Bihari Vajpayee's demise
New Delhi, Fri, 17 Aug 2018
NI Wire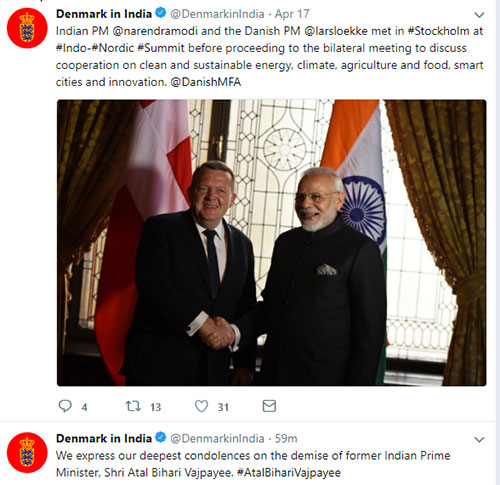 Embassy of Denmark in India expresses deepest condolence on demise of former Prime Minister Shri Atal Bihari Vajpayee in New Delhi. Embassy of Denmark in India posted their message and old photgraph of Atal Bihari Vajpayee on his official Twitter account.
The veteran politician breathed his last in Delhi today; he was 93-years-old. With the sad demise of Vajpayee ji, as everyone used to call him out of deep respect, an era has passed in Indian politics.
Atal Bihari Vajpayee served as the 10th Prime Minister of India. He served as PM for the first time for 15 days (from 16 May 1996 to 1 June 1996), the second for a period of 13 months (from 19 March 1998 to 26 April 1999) and the third for five years (from 13 October 1999 till 22 May 2004).
Embassy of Denmark in India twitter account says "We express our deepest condolences on the demise of former Indian Prime Minister, Shri Atal Bihari Vajpayee. #AtalBihariVajpayee".
Further Embassy of Denmark in India twitter account posted "Indian PM @narendramodi and the Danish PM @larsloekke met in #Stockholm at #Indo-#Nordic #Summit before proceeding to the bilateral meeting to discuss cooperation on clean and sustainable energy, climate, agriculture and food, smart cities and innovation. @DanishMFA".
Former Prime Minister Shri Atal Bihari Vajpayee, died at AIIMS at age of 93 yesterday evening after a prolonged illness. Several leaders and people from all section of society is posting their condolence through social networking portals.
Shri Vajpayee was one of the most respected leaders in India who led the nation through several crises.
Former PM Atal Bihari Vajpayee was awared with the Bharat Ratna (2015) and Padma Vibhushan (1992).
Read more at Atal Ji Breathes His Last at the age of 93, leaves the whole Nation in Grief.