World Blockchain Conference to begin in Atlanta July 11
Atlanta, Sun, 08 Jul 2018
NI Wire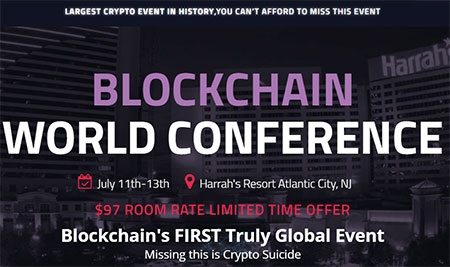 World largest Blockchain Conference is scheduled to begin in Atlanta July 11 2018, which will be attended by more than 5,000 attendees. World Blockchain Conference is expected to be the largest ever conference on Blockchain technologies in North America. Conference will focus on the every aspect and its usages in the industry in recent days.
The Blockchain World Conference is being held Atlanta City, NJ between July 11-13. More than 100 industry speakers will present their view in the conference. This conference will also be telecasted to more than 25,000 people all over the world.
World Blockchain Conference is being organized in 50,000 sq. feet of exhibit space, which makes it more attractive and provides ample space to handle large audiences. This conference is going to focus on main aspects of Blockchain technologies. Industry experts and technology people will present their view in the conference.
This Conference is expected to discuss Blockchain technologies, bitcoin and crypto, networking, and Blockchain implementations in the industry. Conference is expected to see more than 5,000 attendees and more than 25,000 users attending through live broadcast.
Conferece is expected to see top icons including John McAfee (founder anti-virus software company), Matthew Herrick(co-founder of Deedcoin), Cindy Yang(co-head of Duane Morris LLP FinTech Industry Practice Group and partner in the firm's Intellectual Property Division), Neil Patel(CEO of KindAds), Michelle Gitlitz(Co-Lead of Blankrome Blockchain and Digital Currency), Kim Nguyen (she was a Vietnam War refugee, making her way to Australia after drifting at sea in a small boat without food or water for half a month) and Graham Goddard (founder AllPublicArt.com).
Blockchain and Bitcoin technologies are changing the world these days, this conference is expected to provide good information to the audiences all over the world. People can also join the live streaming of the conference around the world.
Blockchain Conference details:
Ad: Blockchain is fasting growing technologies and industry around the world is adopting it in their business. Rose India is offering Blockchain Consulting Services for designing, developing and deployment of Blockchain applications.