Samsung released Galaxy J7 Duo in India at a price of Rs. 16,990
New Delhi, Thu, 12 Apr 2018
NI Wire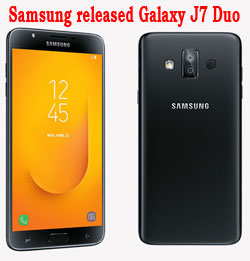 Samsung released Galaxy J7 Duo with dual camera and Android 8.0 operating system at a price tag of Rs. 16,900 in India. As name suggests (Duo) this phone come with dual camera 13MP rear and 5MP front. This phone is released in Indian market at a price of Rs. 16,900. Smart phone is one of the most necessary items for day to day use and India is one of the fastest growing mobile phone markets in world.
Samsung Galaxy J7 Duo is mid-range Smartphone from Samsung in which comes with dual camera, 4GB RAM, 5.5 inch screen with AMOLED display. Phone comes with pre-installed Android 8.0 Operating system which provides many features to the user.
The main attractive feature of this phone is 13MP rear and 5MP front camera. This specification is good mid range mobile phone.
Galaxy J7 Duo comes with 4GB RAM which is good for running modern mobile applications and games.
These days people are spending time in watching videos, listening music, surfing web and playing games on their smart devices. This phone is good for mid range users as its specification is good for such activities.
This phone comes with latest powerful Exynos 7 series octa-core processor along with 4GB of RAM. Screen size of 5.5 inches are good for playing games, surfing internet and watching videos. People are also watching cricket match, live stream and Youtube videos on the mobile phone.
The 4GB of internal RAM and 32 GM of internal storage is good for most of users these days. Phone also provides support for expandable micorSD card support. Users can install micorSD card for getting extra store on this phone.
Features of Galaxy J7 Duo
Screen Size: 5.5 inches with HD AMOLD display
Processor: Exynos 7 series octa-core processor along with 4GB of RAM.
Expandable Storage: Support for microSD card
Camera: 13MP Rear and 5 MP front
Operating System: Android 8.0 Operating system is pre-installed on this phone
Fingerprint sensor: Phone comes with the fingerprint sensor which can be used to unlock phone
Video Recoding: FHD video recording at 30fps.
Battery: 3,000mAh battery
Colours: Samsung J7 Duo comes in Black and Gold colour variants.
Samsung J7 Duo is mid-range phone with latest features and hardware specification. Release price of this phone is Rs. 16,900 in India.