Chhattisgarh assembly elections: BSP-Janata Congress alliance announces list of 13 candidates
Chhattisgarh, Wed, 24 Oct 2018
Deepak Kumar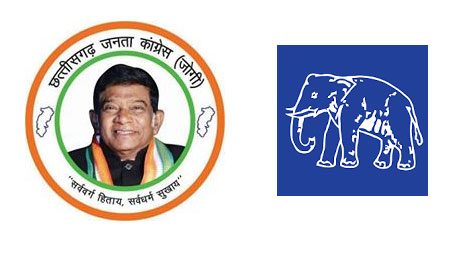 Former CM of Chhattisgarh Ajit Jogi's party the Janata Congress Chhattisgarh (J)has made an alliance with theBahujanSamaj Party (BSP). On Thursday, the alliance announced the names of 13 candidates for the upcoming assembly elections. The BSP declared six candidates and Jogi's Congress declared seven candidates. The BSP has announced its candidates for the first phase of elections to be held on November 11. Of the 35 seats in the account after the alliance with Jogi's Congress, the BSP will have to contest six seats in the first phase. The BSP has declared names for six seats in its first phase list. It is expected that this BSP-Jogi Alliance might emerge asone of the top contenders in Chhattisgarh to form the government.
BSP-Janata Congress alliance releases 13-candidate list
MishriMarkandey from Dongargarh, Ashok Verma from Dongargaon, Hemant Piyam from Antagarh, Brahmand Thakur from Kanker, Jugal Kishore Bodh from Keshakal and Narendra Netam from Kondagaonhavebeen given the tickets.
Janta Congress Chhattisgarh (J) announced seven candidates. Polling for the first phase in the state will be held on November 11. According to the alliance, the Janata Congress will contest on 55 seats while BSP will contest on 35 seats. But during the discussion, the Communist Party of India (CPI) joined hands with the alliance, after which the BSP promised to give two seats to the CPI. The CPI will contest from Sukma and Dantewada seats.
According to the current list, the Janata Congress has allotted tickets toTrilochan Nayak from Basna seat, Sanjay Chelak from Ranga, RohitSahu from Rajim, TankleshwarBharatwaj from Chitrakoot, Naval Rathia from Dharmajyagarh, PhulasinhRathiya from Rampur and MunnaToppo from Sitapur.
Richa Jogi's stature is not yet fixed
According to BSP sources, Ajit Jogi's daughter-in-law, Richa Jogi, can contest the assembly elections on the ticket of BahujanSamaj Party. However, the name of the constituency from where Richa Jogi will eventually contests the elections is yet to be announced.