Over 61 dead in Amritsar as train rolls onto devotees celebrating Navaratri
Amritsar, Sun, 21 Oct 2018
Deepak Kumar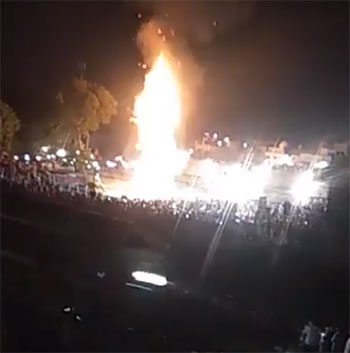 A commuter train, travelling at a high speed struck a crowd of people, which killed over 61. The crowd was one of devotees ho were gathered around the tracks to celebrate the auspicious occasion of Dussehra, the nine day festival, marking the return of Lord Rama.
Reportedly, the people were watching the burning of effigies of Raavana when the incident happened. The actor, playing Raavana, reported was also one of the many who lost their lives.
Punjab's Chief Minister Amarinder Singh later rushed to the spot to assess the casualties and the overall situation.
The injured were being treated at the Civil hospital in the city. Singh announced a compensation of five lakh rupees to kin of each deceased and free treatment to injured in both government and private hospitals.
Indian Railway Board Chairman Ashwani Lohani said the railways should not be held responsible in this matter. He said that the two manned level-crossing on the track, where the accident took place, was closed.
Following the incident, total eight trains have been cancelled, five diverted, and at least 10 trains short-terminated. Earlier in the day, Navjot Singh Sindhu had reached the hospital premises to keep assess the situation correctly.
Meanwhile, to provide support to the affected, candlelight vigils were taken out in solidarity in Chandigarh and Patna. Artists dressed as Ram, Hanuman, Sita and Laxman take part in a candle light march organised in Chandigarh to pay tribute to the victims. In Amritsar, the situation is still somber, as the relatives of the victims are still scrounging for corpses of their dear ones.
--Deepak Kumar