1840 Public authorities aligned with the RTI Online Portal: Dr Jitendra Singh
New Delhi, Sat, 18 Mar 2017
NI Wire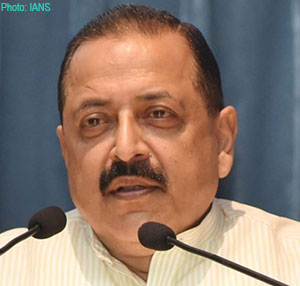 The Union Minister of State (Independent Charge) for Development of North Eastern Region (DoNER), MoS PMO, Personnel, Public Grievances, Pensions, Atomic Energy and Space, Dr Jitendra Singh briefed the media on RTI Online Portal here yesterday.
Dr Jitendra Singh expressed happiness that 1840 Public authorities are aligned with the RTI Online Portal till date. He said that this portal is in line with the Prime Minister Shri Narendra Modi's vision of Digital India. The emphasis of the Government has always been on transparency and good governance, he added. He said that the government is persuading the states to implement the RTI Online portal. He said that it is really appreciable to persuade large number of departments to adopt this portal. The Minister also said that RTI online portal will curb delays in responding to the RTIs.
On the occasion, Dr Jitendra Singh presented Certificates of Excellence for RTI Request & Appeals Management Information System on the above occasion. The awards were presented in various categories including implementation in a Ministry/Department/Public Authority, Digitising the physically received RTI requests, average time taken for final reply to RTI requests and quality of disposal based on extent of online first appeals received. The PAs who were aligned by 31.03.2016 were eligible for the awards and the performance assessment during 01.04.2016-31.12.2016 were considered for the awards. Under the Extent of Implementation category, Ministry of External Affairs, Department of Posts and Department of Scientific and Industrial Research were given certificates. Under Digitising Physically Received RTI Requests, Delhi Police, Life Insurance Corporation of India (LIC), Department of Personnel & Training (DoPT) were awarded. Under Average Time Taken for Final Reply, Cabinet Secretariat (10.73 Days), Staff Selection Commission – HQ (11.52 Days) and Ministry of Petroleum & Natural Gas (11.81 Days) were presented certificates. Under Quality of Disposal category, Department of Revenue, Staff Selection Commission (Northern Region) and Ministry of Drinking Water and Sanitation were presented certificates.
The Secretary, DoPT Shri B. P. Sharma said that RTI Online Portal (https://rtionline.gov.in) was launched in August, 2013, making it convenient for citizens to file RTI requests and First Appeals through on-line. The portal is now bilingual (Hindi & English) and can be operated through online payment of RTI fee and additional payments through SBI gateway. He informed that out of the five Action Points selected by Niti Aayog, all the Public Authorities registered with the Central Information Commission (CIC) will have to be aligned by 30.06.2017. Shri B. P Sharma said that from only 477 Public Authorities (PAs) aligned as on 01.04.2016, 1363 more PAs have been aligned with the portal as on 17.03.2017, taking the total to 1840. Moreover, 198 Public Authorities under Delhi Government have adopted DoPT's RTI web portal. This way the total PAs aligned with RTI portal becomes 2038. The remaining PAs including those from UTs of Puducherry and Chandigarh will be aligned with DoPT's RTI online Portal by 30.04.2017. Majority of the aligned Public Authorities are under the D/o of Heavy Industry, Financial Services, Ministries of Railways, Power, Steel and Health & Family Welfare etc.
During 2015-16, 175 High Commissions and Consulate General of India (CGI) abroad were also aligned with the RTI Portal. For taking forward this initiative, CIC's on-line web portal launched in November, 2016 has been integrated with DoPT's RTI on-line portal in order to provide a single window to citizens for filing RTI Request, First Appeal and Second Appeal. Moreover, the RTI Online Portal with minor customization has been implemented in Maharashtra while work is under process in some other States/UTs. As close to 90% internet usage is through mobile, Mobile App for RTI is planned to be rolled out in near future. For awareness creation, a new audio spot along with the existing spot are being aired on All India Radio w.e.f. 1st March, 2017 in Hindi & 10 regional languages. New building of CIC is under construction and provision of providing Video Conferencing facility for disposal of 2nd appeals/complaints is there so that personal appearances may be dispensed with in most cases.
Click here for detailed presentation on RTI Online Portal
Source: PIB