Aksar 2 is all set to release on 17th November, 2017!
Bollywood, Sat, 04 Nov 2017
NI Wire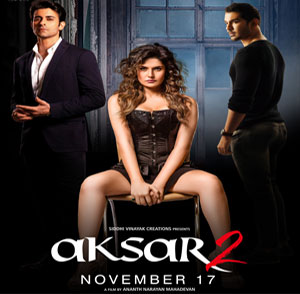 Zareen Khan, Gautam Rode and Abhinav Shukla starrer Aksar 2 will be hitting the silver screen on 17th November, 2017. The makers launched 2 brand new posters announcing the new release date.
Both the posters have created a frenzy leaving audiences in anticipation of the film, building their curiosity and leaves them wanting more!
Calling it a well-planned strategy, director Ananth Mahadevan reveals that they seized an opportunity and now get a two week window to create curiosity around the film.
"Releasing the film on November 17 was a well-planned strategy by the producers. October was the month for Diwali and Golmaal Again and the first and second week of November had too many films. This gives us a two week window to push our film that has gained tremendous curiosity thanks to the extra month of promotion," director Ananth Mahadevan stated.
Presented by Siddhi Vinayak Creations, Aksar 2 is produced by Narendra Bajaj and Chirag Bajaj. Directed by Ananth Narayan Mahadevan, with music composed by Mithoon and lyrics penned by Sayeed Quadri, Aksar 2 stars Zareen Khan, Gautam Rode, Abhinav Shukla, Mohit Madaan, Lillete Dubey and Sreesanth.
The film is slated to release on November 17, 2017.
Aksar 2 Official Trailer Latest Bollywood Movie 2017 Zarine Khan, Gautam Rode 6th October 2017