Aksar 2's Tanhaiyaan will tug at your heartstrings!
Bollywood, Mon, 09 Oct 2017
NI Wire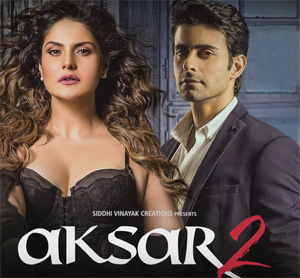 The makers of Aksar 2 gave us two soulful tracks with AajZid and JaanaVe and have finally released the much awaited third song titled Tanhaiyaan which features Zareen Khan and Abhinav Shukla.
Talking about shooting in the beautiful locales of Mauritius, Director AnanthMahadevan stated, "We have shot at some exotic places — a British kind of villa that has been converted into a museum of artefacts with beautiful furniture, pianos and grandfather clocks. We also shot a portion of the song at a beach and a fort, which had wonderful textures made of wood and bricks and has a huge galley, where we could finish the song with the shot of Zareen running."
"It comes as a shock to both Zareen and the audience. Amit Mishra, who did a wonderful rendition of Bulleya in AeDilHaiMushkil is singing this nostalgic number. I am so glad I got him because he has sung it with a lot of feeling. After the sensuous AajZid and the romantic JaanaVe, this will tug at your heartstrings,"the confident director added.
Talking about the film's delayed release, Mahadevan further went on to say, "We wanted to release Tanhaiyaan first and our second trailer, which concentrates totally on the edge-of-the-seat content. That will be launched next Tuesday. We wanted to build this up and not hurry through, that's the reason we took a call to push the film. Also, some post-production work is remaining."
We're sure the audience can't wait for the team of Aksar 2 to announce the release date!
Presented by Siddhivinayak Creations, Aksar 2 is produced by Narendra Bajaj and Chirag Bajaj. Directed by Ananth Narayan Mahadevan, with music composed by Mithoon and lyrics penned by SayeedQuadri, Aksar 2 stars Gautam Rode, Abhinav Shukla, Zareen Khan, MohitMadaan, LilleteDubey and Sreesanth. The film is slated to release soon.
Tanhaiyaan Song Video - Aksar 2 Hindi Song 2017 Amit Mishra, Mithoon, Zareen Khan, Abhinav
Aksar 2 Trailer Latest Bollywood Movie 2017 Zarine Khan, Gautam Rode 6th October 2017