President of India is in Kerala; launches Technocity project in Thiruvananthapuram
Thiruvananthapuram, Sat, 28 Oct 2017
NI Wire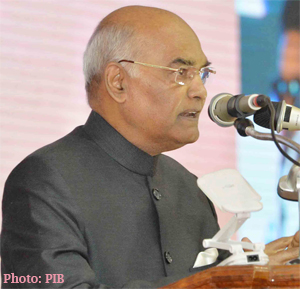 President of India is in Kerala; launches Technocity project in Thiruvananthapuram and lays foundation stone for the first government building in Technocity
The President of India, Ram Nath Kovind, launched the Technocity project in Thiruvananthapuram yesterday (October 27, 2017) and laid the foundation stone for the first government building in Technocity.
Speaking on the occasion, the President said that Kerala's strengths in basic literacy and skills – and the experience of Kerala's people in the services sector and in consumer driven industries – make this state a natural for an IT ecosystem. He stated that IT is not just important in itself. It is a force multiplier for the entire services economy. It has played a game changing role in health-care, education, tourism and many other industries. These areas are Kerala's strengths. He was confident that the development of Technocity will provide new opportunities for the young people of Kerala.
The President said that in many parts of the country, people from Kerala are an essential part of the economic landscape. And such achievements are by no means limited to India. Without the hard work of our brothers and sisters from Kerala, the economies of the United Arab Emirates and other Gulf countries would not be the same. Kerala migrant workers in those countries also contribute to the development of India by unfailingly sending back foreign exchange. We cannot forget them or their immense role in nation building.
The President said that climbing higher in the services sector value chain, Kerala has obvious advantages in three areas. The first is Information Technology. The others are tourism and health-care. These are also the areas where jobs and employment opportunities lie for our youth – especially for the talented young men and women of Kerala.
Source: PIB