Rohit Shetty and Ayan Mukherjee show their love for Ironnman and Captain America!
Bollywood, Tue, 10 Oct 2017
NI Wire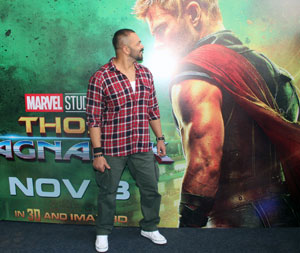 Superstar Director Rohit Shetty who is all set for Gomaal Again recently attended a popular film festival in Mumbai for a session where even the popular figurines of Ironman and Captain America were present!
In anticipation of the much awaited Thor Ragnarok, Marvel India got the rare Ironman and Captain America international figurines to the festival venue and Rohit Shetty was seen having a fun time posing and meeting the characters!
He posed with the figurines and was seen admiring the toys present there as well! He is known for loving Ironman and has publicly expressed his admiration for the supehero
Thor Ragnarok releases soon on 3rd November