Sonakshi Sinha at Opening show of Lakme Fashion Week Summer Resort 2017
Mumbai, Sat, 21 Jan 2017
NI Wire
null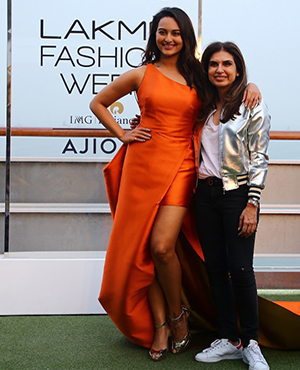 Mumbai: Lakme Fashion Week has been creating history in fashion by wooing audiences with enthralling offsite shows since 2000 in innovative locations such as St Xavier's College, Mehboob Studios, Tote on the Turf and the Richardson & Cruddas Mills. Lakme Fashion Week Summer/Resort 2017 once again created a 'Fashion First' with the Opening Show by resort wear specialist, Monisha Jaising on the first International luxury cruise ship to start sailing from Mumbai to Maldives, Costa neoClassica. The show which was brought about through the endeavours of the IMG Reliance event curation team had the gorgeous Sonakshi Sinha walk as showstopper for the evening.
Sonakshi Sinha said, "It was wonderful to greet the sunset in this beautiful sunset orange dress by Monisha Jaising who is known for her fabulous western wear. This was truly a unique and perfect setting by the Arabian sea to showcase fashion. I really enjoyed the unusual but long ramp walk and love Monisha's style because she makes every woman feel like a goddess. "
Having created collections like "The Sailing Bride" and "Riviera" in the past, Monisha's 'Spring/Summer 2017' collection on the deck of the luxury liner was the perfect cruise wear offering.
At the grand opening show, the deck of the Costa neoClassica came alive with a luxurious fashion experience. Monisha unveiled her statement holiday and resort wear styles that moved seamlessly from tantalising swimwear to glamorous cocktail and evening creations.
Monisha Jaising shared, "I want to create a sense of drama, glitz, ultra-glam, emphasizing on sharp angles and playing with varying tones through this collection. It's about reinventing classic silhouettes. It's also the joy of a modern woman, unafraid to spread her wings and conquer big city nights… in Haute Couture, of course. It was great to have Sonakshi Sinha in a sunset orange dress stride across this 360degree ramp by the beautiful Arabian sea. "
From the very luxe opening entry of two sexy silver micro-minis, Monisha's collection cruised through a line of garments that made ideal resort wear statements for the haute, elite audience.
Embellishments took centre stage on the opulent fabrics that ranged from heavy bonded satin, wool crepe and Italian organza as they gleamed with chikankari and metal encrusted chain mail.
Working around her favourite colour story, Monisha ensured that there was a profusion of dramatic black, gleaming gold, sedate grey, pristine white, rose pink and rose tan that occasionally came alive with vibrant bursts of fiery red, vibrant orange and sexy fuchsia.
Monisha's creations were aimed at the jet-setting dare-to-wear-anything woman who experiments with her sartorial options. Whether it was ultra-glam swimwear, stylish pants and trend setting blouse with a provocative summer hat, or a vibrant dress for a lunch on the deck, the looks were classic and feminine. Bringing in a hint of ethnic chic, Monisha presented elegant pre-stitched figure-hugging cocktail saris that vied for attention with the sensuous billowy skirts teamed with body contouring bodices.
Monisha Jaising one of the pioneers of Indian fashion in the country has had many 'firsts' to her credit. She reinvented the kurti not only for the Indian fashionistas but turned the 'desi' garment into a high-octane creation coveted by the western trendsetters. Keeping her designs forever young and vibrant, Monisha always ensured that her label has redefined pret and couture luxury for the global dresser. Her bohemian luxe resort wear is a "must have" for women who want to create an impact on the fashion scenes around the world.
Sonakshi Sinha's electrifying entry brought the 'sexy' look back in fashion wearing a sunset orange, waist clinching, one-shoulder structured gown with a flirty hemline and an exaggerated voluminous trail was the ultimate finale of a grand opening. The outfit drew its inspiration from the beautiful, mesmerising sunset. The sun-drenched creation was a perfect couture piece with a twist for the first escape of summer.
India saw its first ever runway show on a luxury cruise- Costa Cruises is Europe's No.1 cruising company and Costa neoClassica will be the first luxury cruise ship to homeport in Mumbai and sail directly between Mumbai and the Maldives. The collaboration with Costa Cruises and the Lakme Fashion Week was brought about by Akshaansh Multivision.
null