Bipasha Basu walks for ramp Sanjukta Dutta at Lakme Fashion Week Winter/Festive 2016
Mumbai, Tue, 30 Aug 2016
NI Wire
null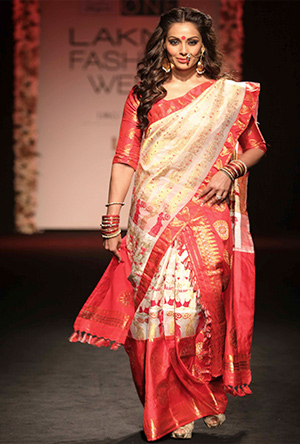 Mumbai, 28th August, 2016: Sanjukta Dutta presented Assam's Textile Heritage at 6Degree Stage One during Lakme Fashion Week Winter/Festive 2016
The time-honoured crafts and soulful serenity that defines Assam was beautifully presented by Sanjukta Dutta at 6Degree Stage One during Lakme Fashion Week Winter/Festive 2016.
Inspiration truly reflected Assamese tea gardens, the fauna of Kaziranga, flora of the North East, the fisher women, the weavers and even a Jhapi (traditional hat).
The serene white, beige and grey hues of silk yarn weaves of 'Pat', and 'Muga', a very rare and high quality silk and 'Tussar' that has an affluent beige-gold colour with a rich, raw texture were cleverly used.
The Assamese motifs from different religious sects, like the Bodo and Miri communities were intricate. There was Singkhap, a royal motif that features two lions facing each other, Kaziranga composition that has the rhino and deer with birds and flora, crescent shaped Joon biri, which is inspired from a traditional neckpiece, Karbi that has two birds facing each other, Kolki that is the mango motif similar to the paisley motif, Moourah the peacock, and the Pokhila that is the butterfly.
The richness of the Mekhela Chador, the traditional garment of Assamese women was glamorous. The ethnic drape comprised 'Mekhela' that is the lower garment, which is pleated on the right side and the 'Chador' that is the dupatta with one end pleated and tucked into the waist in front, and then taken over the shoulder and draped.
The Mekhela Chador was presented in a new light with variety of drapes that were teamed with the shirt blouses, some with cut out backs and tie-ups. The Chador was beautified by the tassels on the border.
Bollywood's gorgeous actress Bipasha Basu took centre stage as the showstopper of the collection in an ivory and red Mekhela Chador ornamented by the rich motifs depicting Assam.
The carefully crafted masterpieces by Sanjukta Dutta at 6Degree Stage One during Lakme Fashion Week Winter/Festive 2016, spoke of the endless efforts of the lustrous and divine Assam.
null