Dengue and other Vector Borne diseases need to clear misconception
New Delhi, Sun, 05 Jul 2015
NI Wire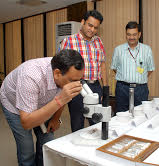 Health Minister Satyendra Jain has reviewed the preparedness for Dengue and other Vector Borne Diseases. Officers from various agencies and hospitals across the national capital attended the meeting.
Many crucial decisions were taken and various actions were assigned to different stake holders including all advisories regarding Dengue and its management with respect to government and private hospitals, dispensaries, laboratories, and general public to be redrafted and simplified.
The misconception particularly regarding platelets count amongst general public and health care providers to be clarified in the said advisories. School children to be demonstrated the life cycle of Aedes mosquito and children will also be involved in Dengue control activities. They should be given projects related to Dengue.
DBCs worker should be provided with pamphlets/Advisory for distribution to every household during their visit for creating awareness amongst the community regarding the disease. They will visit each household with volunteers for spreading awareness.
Jain emphasized on the sensitization of school students for utilizing them as brand ambassadors for the prevention and control of Dengue. He informed that the union health ministry has assured its full support to Delhi government for the prevention and control of Dengue and other vector borne diseases.