'Irrfan Khan' the New Romantic in Bollywood
Mumbai, Thu, 07 May 2015
NI Wire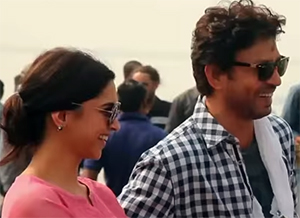 Mumbai, May 7, 2015: Irrfan Khan has been known for the diverse roles he plays. He has been seen in negative roles and various other serious characters. Yet the actor has never been seen in a conventional love story. And with Shoojit Sircar's upcoming family comedy drama, 'Piku', where he will be seen romancing the pretty Deepika Padukone, he is going to venture into the romance genre.
Talking about his character in 'Piku', he reveals that his character Rana refuses to flirt with the girl until he is sure she would reciprocate. He said, "Like me, he's shy. For him, romance is not coy smiles but about being aware of someone's physical presence without even looking at or speaking to her." He also disclosed that there was a scene in the film during their journey from Delhi to Kolkata when Piku (Deepika's character in the film) was emotionally and physically drained after an argument with her father. She dozed off and then realizing that she should not be falling asleep while sitting next to Rana, who was driving, she apologizes. Rana tells her to sleep and not to worry about it.
"There is so much happening between the two... Deepika's eyes convey her growing attraction, her longing and sense of loss she feels as she looks at Rana repairing a pump, knowing he'll go away soon after," Irrfan said.
This is one avatar of Irrfan we can't wait to see. The talented actor will also be seen in Tigmanshu Dhulia's 'Divine Lovers' where we will see him getting intensely passionate with Kangana Ranaut and in 'Jazbaa', where he rediscovers Aishwarya Rai's character, an old friend who's now a single mom.
We are sure he will do justice to this romantic avatar of him as well!
Watch Irrfan bring the house down on the sets of 'Piku' at:
View More : 'Piku'