'Holla Mohalla-an Enduring Celebration': Remembering the holy town Anandpur Sahib
New Delhi, Tue, 18 Feb 2014
NI Wire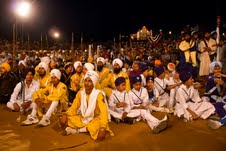 The four-day exhibition titled "Holla Mohalla-an Enduring Celebration" is all set to begin from February 21 - 24, 2014, at the Visual Art Gallery, India Habitat Centre, New Delhi. Snt Gurshan Kaur will be as Guests of Honour and will inaugurate the show. Bangalore based, Gallery Dravidam is all set to organize the event in collaboration with the
Dravidam is highlighting the holy town of Anandpur Sahib in Punjab throuth the exhibition 'Holla Mohalla-an Enduring Celebration' .The 9th Guru Shri Guru Teg Bahadur Sahib was the founder of Anandpur Sahib built on the picturesque Himalayan foothills on the banks of the river Sutlej. Anandpur Sahib was where Guru Gobind Singh ji established the Khalsa Pant & declared holy war against tyranny & oppression.
From this historic town under the Guru's leadership, his small but valiant force of horsemen of the Khalsa galloped onto the hills & across the plains of Punjab not only to safeguard its territory but to protect righteousness in every sense. The Nihangs said to be the descendants of the original Khalsa Dals converge every year on the holy town of Anandpur Sahib to exhibit their martial arts & horse riding skills during the Holla Mohalla festival which is said to be one of the most popular fairs of Punjab & the Sikhs.
In March 2013, under the auspices of Gallery Dravidam & the Anandpur Sahib Heritage Foundation, artist Suresh Muthukulam (the artist has done a mural at T2 Terminal at Mumbai Airport) from Kerala and photographer Cop Shiva from Karnataka attended Holla Mohalla in order to present this vibrant festival in Gallery Dravidam's, 2014 art show at the Visual Arts Gallery, India Habitat Centre.
This show will highlight the universal appeal of the Sikh tradition & the festival of Holla Mohalla through the eyes of two South Indian artists. Through such events we hope to spread the message of national integration. The event would be a curtain raiser to future art events featuring the fine arts & traditions of Anandpur Sahib.