28th Surajkund International Crafts Mela culminates on promising note
Surajkund, Haryana, Sat, 15 Feb 2014
NI Wire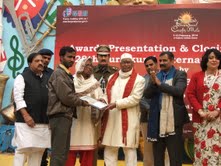 H.E. Jagannath Pahadia, the Governor of Haryana, declared the 28th Surajkund International Crafts Mela at Surajkund, Faridabad officially closed on 15th February (Saturday) during his valedictory speech on the occasion. He was the chief guest of the Closing-Cum-Award Presentation Ceremony.
Pt. Shiv Charan Lal Sharma, Minister of Information, Public Relations & Cultural Affairs and Labour & Employment, Haryana; Shri Avtar Singh Bhadana, MP, Faridabad; Anand Kaushik, MLA, Faridabad; Shri Ashok Kumar Arora, Mayor, Faridabad and Chairman, Haryana Tourism Corporation, Chakrvrty Sharma were among the dignitaries to grace the occasion. Drumbeats and foot-tapping music gave the esteemed dignitaries a rousing welcome from the participating cultural troupes of various countries and states of India. Pahadia along with his wife Smt Shanti Pahadia then proceeded towards the Chaupal.
A hearty and warm welcome was extended to the Chief Guest and all esteemed guests by Mrs Sumita Misra, Director General, Tourism, Haryana & Member Administration, Surajkund Mela Authority.
Vijai Vardhan, Principal Secretary, Tourism, Haryana & Vice-Chairman, Surajkund Mela Authority read out the performance report of the 28th Surajkund International Crafts Mela and highlighted that the Mela had become a repository of arts and crafts from across the globe.
The total number of craftspersons to have participated in the Mela this year are 1,170, including 39 from foreign countries, 217 national and 101 state awardees. There were 214 and 112 craftspersons of DC Handicrafts and DC Handlooms respectively and 53 craftspersons from Goa. Also there were 80 craftspersons of Ministry of Social Justice and Empowerment, 35 each of Ministry of Minority Affairs-NNFDC and NABARD, 25 of Bihar Industry Department, Patna, 8 stalls of Ministry of Agriculture-National Jute Board, 3 stalls of Ministry of Commerce-FDDI and 2 stalls of Ministry of MSME-KVIC. Among these participants there were 7 craftspersons who have been recipients of Shilp Guru and 10 have been bestowed with Sant Kabir honour.
Proper arrangements were made for the comfortable boarding and lodging of the artisans.The Mela has been a custodian of the dying arts and this time, a special area was created for craftspersons practising languishing arts where they showcased their talent.