Shutting down fuel pumps at night is no solution
New Delhi, Mon, 02 Sep 2013
NI Wire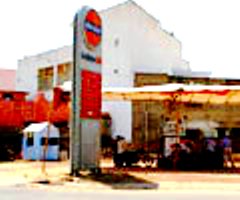 The idea seems laughable when you hear that the government is mulling to run petrol pumps in cities only from 8 am to 8 pm in its effort to cut down fuel consumption. Although the UPA government is trying to cut the massive oil import bill, in order to revive the rupee depreciation, shutting petrol pumps at night is not even an option to think of, considering the inconvenience it may bring to the common man.
Oil Minister M Veerappa Moily and his ministry is about to start a fuel conservation drive to cut fuel demand by 3 percent and save an estimated Rs. 16,000 crore in forex expenditure. Indian economy is on the downside and the government is trying to narrow down current account deficit by several measures.
As of now, in order to prop up rupee which has slipped 23 percent against US dollar this year, the oil ministry is trying to bring a $25 billion cut in oil import bill. However, shutting down petrol pumps at night will create other problems than making a solution. If there is genuine demand for certain thing it will remain as is, hence there should be other ways to address excessive fuel consumption or promote conservation.
Imagining that in all major cities, where a huge number of people are using private transport, limiting the access to petrol pumps for specific hours will only create chaos. It will force people to queue up at petrol pumps causing traffic hurdles. And think about those people who travel during nights; if they run out of petrol do they have to wait till morning to fill their tank? What about trade, it will certainly affect the flow of local trade as well the prices of goods and services.
Moreover, if we have to think of fuel conservation, we have to think of alternative ways of energy sources. Let the government take concrete measures towards domestic oil exploration and various alternate energy sources. Even though it asks heavy expenditure, this will at least be a step to our future energy security.
Another very interesting idea is to promote public transport instead of private vehicle. For this, government certainly has to come up with better infrastructure and transport system to encourage people to use public transport. The national capital is a good example where most people are either using DTC buses or Delhi Metro train services. In addition, government can compel corporate houses to avail common transport for their employees.
Meanwhile, as far as limiting the forex expenditure on fuel purchase is concerned, the idea to buy crude oil directly from Iran is a right move as unlike imports from other countries, where global oil contracts are paid in US dollar, India pays Iran in rupees. By this way, India can considerably reduce foreign exchange outflow. However, the idea to shut down fuel pumps at night is not a solution to the core problem.