Dhanush refutes Rajinikanth paid for '3' losses
New Delhi, Wed, 18 Apr 2012
NI Wire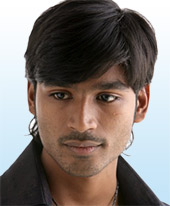 Tamil actor Dhanush is unhappy with reports that say his father-in-law, the veteran actor Rajinikanth, has paid the Telugu distributor's revenue losses for his movie "3".
Dhanush, who became famous overnight with his hit song "Kolaveri di", is married to Rajinikanth's daughter Aishwarya, who is also director of "3".
"How I love the stories that are created just because I am married to a particular person's daughter," Dhanush has been quoted as saying.
"'3' has suffered no losses. And even if there are losses to be compensated for, god has been kind to me. I can take care of my own financial liabilities, thank you very much," he added.
Next month the Hindi version of '3' will hit the cinema halls that stars Kamal Haasan's daughter Shruti, who is yet to establish herself in the industry.
Shruti's father and the movie enthusiast Kamal feels "3" could boost the Hindi film careers of both the actors, Dhanush and Shruti, If the film is edited well particularly its second half.
Dhanush, who is working hard to make Hindi version of "3", a success seemed keen to take Kamal's advice seriously.
"The film has gone into serious re-editing. Most experts feel '3' didn't work to its optimum level at the Tamil and Telugu box office because of its inordinate length," a source close to the project has been quoted as saying.
"Kamalji saw the film and made suggestions as to how and where to prune down the length, specially in the second half," the source said further.
Dhanush has said "Yes I am editing the film down further. Kamal sir did see the film and was kind enough to make suggestions."
--with inputs from IANS