Still to win an IPL match Deccan Chargers faces Pune Warriors
New Delhi, Thu, 26 Apr 2012
NI Wire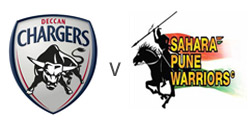 Though Deccan Chargers have one point but they haven't won any match in the ongoing Indian Premier League yet. They earned this point because of the washout of their match against Kolkata Knight riders few nights back.
Pune Warriors on the other hand are playing in there home ground and having won their 4 matches out of 7 they will hope to add up one more win to the list against the team which is sitting last in the points table.
Pune Warriors are at 6th position with 8 points and are tied up with Rajasthan Royals and Mumbai Indians.
Deccan will hope that their batsmen performed this time as except Shikhar Dhawan who has scored 208 runs in this IPL none of the other batsmen have reached 100. Deccan captain Sangakkara and JP Duminy will look to change these statistics. Dale steyn the only bowler who has stood tall will hope that he gets the right support this time around.
Pune on the other hand will rely on top order that includes the name of inform batsmen Ryder, Uthappa, Steven Smith and will hope that Ganguly and Manish Pandey can also perform as they did before. In bowling Alfonso Thomas is proving his metal and Luke Wright will hope that he gets his piece of luck too.
The 36th IPL match between Pune Warriors and Deccan Chargers will start at 8 pm and will be played at Subrata Roy Sahara stadium of Pune.
Pune Warriors Team:
SC Ganguly, ER Dwivedi, MJ Clarke, AB Dinda, CJ Ferguson, RV Gomez, Harpreet Singh, DS Jadhav, Kamran Khan, M Kartik, HH Khadiwale, B Kumar, NL McCullum, AP Majumdar, M Manhas, AD Mathews, MD Mishra, AG Murtaza, A Nehra, MK Pandey, WD Parnell, S Rana, JD Ryder, MN Samuels, R Sharma, GC Smith, SPD Smith, Tamim Iqbal, AC Thomas, K Upadhyay, RV Uthappa, SB Wagh, LJ Wright
Deccan Chargers Team:
KC Sangakkara, A Ashish Reddy, Anand Rajan, Ankit Sharma, T Atchuta Rao, AA Bhandari, DM Bravo, B Chipli, DT Christian, KH Devdhar, S Dhawan, JP Duminy, MS Gony, DJ Harris, IR Jaggi, AA Jhunjhunwala, CA Lynn, A Mishra, T Mishra, PA Patel, V Pratap Singh, SA Quadri, DB Ravi Teja, PA Reddy, BB Samantray, C Sneha Kishore, S Sohal, TM Srivastava, DW Steyn, TP Sudhindra, J Theron, CL White, AS Yadav
LATEST IMAGES

MORE...
Social bookmark this page
Post comments: