KKR will look to avenge their previous loss against KXIP
New Delhi, Wed, 18 Apr 2012
NI Wire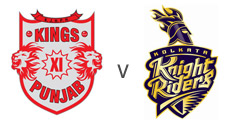 Kolkata Knight Riders, which lost their previous match against Kings XI Punjab by just 2 runs, will look to turn things in their favors this time.
KKR will face KXIP in Punjab Cricket Association Stadium of Mohali at 8 pm.
None of the big players of KKR like Kallis, Gambhir, McCullum, Yusuf are not performing according to their name and that has been the main reason behind their losses. And same is the case with Kings XI too, their players like Gilchrist, Valthaty and Marsh have not performed consistently.
Kolkata have won 2 out of their 5 matches and are on 5th position in the points table while Kings XI Punjab have won their 2 matches out of 4 they have played and are on 7th position.
Kings XI Punjab Team:
AC Gilchrist, P Awana, KJ Abbott, L Ablish, Amit Yadav, Azhar Mahmood, BA Bhatt, Bipul Sharma, PP Chawla, SD Chitnis, BCJ Cutting, P Dogra, JP Faulkner, Gurkeerat Singh, Harmeet Singh, RJ Harris, DJ Hussey, P Kumar, VS Malik, Mandeep Singh, SE Marsh, AD Mascarenhas, DA Miller, AM Nayar, RR Powar, NJ Rimmington, N Saini, SJ Srivastava, Sunny Singh, PC Valthaty
Kolkata Knight Riders Team:
G Gambhir, S Ladda, L Balaji, R Bhatia, MS Bisla, DB Das, M de Lange, BJ Haddin, Iqbal Abdulla, CS Jani, JH Kallis, B Lee, BB McCullum, EJG Morgan, SP Narine, YK Pathan, JL Pattinson, SV Samson, PJ Sangwan, I Saxena, Shami Ahmed, Shakib Al Hasan, LR Shukla, RN ten Doeschate, MK Tiwary, JD Unadkat
LATEST IMAGES

MORE...
Social bookmark this page
Post comments: