Al-Qaeda asks Pakistanis to rebel against Musharraf
New Delhi, Thu, 12 Jul 2007
NI Wire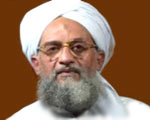 July 12: Ayman al-Zawahiri, the top commander of Al-Qaeda after Osama Bin Laden have appealed to the Pakistanis to rebel against Pak President Pervez Musharraf as Musharraf had ordered his security forces to attack on the Red Mosque in Islamabad, in which more than 100 people died includes clerics Abdul Ghazi, said in the latest audiotape posted on the Internet. The authenticity of the tape could not confirm yet.

"I call upon the Ulemas (Muslim clerics) in Pakistan…..". "Musharraf and his hunting dogs have tarnished your (Ulema's) honour in service of the crusades and the Jews. If you don't revolt Musharraf will annihilate you. Musharraf will not stop until he uproots Islam from Pakistan", said Al-Zawahiri in 04 minutes and 24 minutes audio tape.

To motivate Pakistanis, Ayman infuriated "Muslims in Pakistan: no salvation for you except through Jihad (holy fight). Rigged elections and politics will not help you. You should now support the mujahedin (holy warriors) in Afghanistan. Are there no honourable men in Pakistan?", asked Zawahiri.

The recording was released on Al-Qaida's multimedia branch, as-Sahab known to publish Al-Qaeda's statements. The tape was released after the end of a weak long war in which many terrorists including Deputy Administrator of Lal Masjid Abdul Rashid Ghazi shot dead who were hidden inside the mosque.

Al-Zawahiri also provoked on the death of Ghazi and called a dirty despicable crime done by the military intelligence at the order of Parvez Musharraf. The fundamentalists were using the mosque to re-educate the students against the western countries and radicalised them to enforce their version of Islamic morality.

The eight day long war ended yesterday in which more than 100 people including security commandos died. Pakistani military forces began to clear the mosque campus and found at lest 82 dead bodies including 73 suspect militants and 09 security commandos from the mosque campus region. The dead bodies of the militants are being buried without presence of their relatives.

It was the second message in this weak excluding eight others released by al-Zawahri this year, according to Ben Venzke of the IntelCenter, a US-based intelligence group.
LATEST IMAGES

MORE...
Social bookmark this page
Post comments: