Madiba - Nelson Mandela turns 94
New Delhi, Wed, 18 Jul 2012
NI Wire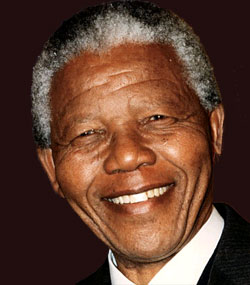 Madiba or Nelson Mandela is celebrating his 94th birthday today. On this occasion Former US President Bill Clinton paid a surprise visit to him at his home in village Qunu.
Mandela is celebrating his birthday with his family.
Clinton said, "It was a great honour for me to serve as a president of America while Mandela was president of the Republic of South Africa".
18 July is also seen as International Mandela Day all over the world. It is aimed to encourage people for good cause.
On this day thousands of South Africans will donate 67 minutes of their time for various community projects. 67 represent the number of years that Mandela fought for freedom before South Africa became democratic.
Rolihlahla Mandela was born on 18 July 1918 in Mvezo South Africa to Gadla Henry Mphakanyiswa and Nosekeni Fanny (Gadla's third wife). He received his English name "Nelson" from his teacher Miss Mdingane.
Mandela was President of South Africa from 1994 to 1999 and a militant anti-apartheid activist. Mandela spent 27 of those years in prison.
LATEST IMAGES

MORE...
Social bookmark this page
Post comments: