A1GP Mexico race cancelled due to swine flu
New Delhi, Wed, 29 Apr 2009
NI Wire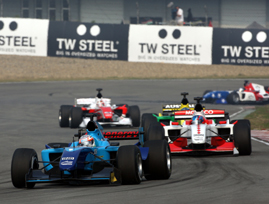 The A1GP World Cup of Motorsport scheduled on May 22-24 in Mexico City has been cancelled due to the recent outbreak of swine flu and the issuance of travel advisory by many countries thereafter.
Officials of the motor event confirmed that it was their first priority to ensure safety of all members of the A1GP community as well as the thousands of loyal fans, and as the World Health Organisation itself raised the level of influenza pandemic alert, they had to make this call.
'When the news of the health problems broke last week we made sure we kept ourselves up to date with the latest information. It soon became obvious this was not an isolated health risk after WHO's alert and UK Foreign Office advisory to cancel non essential travel to the country,' said A1GP Chairman, Tony Teixeira.
"However, this cancellation does not impact on the future of the series and once Brands Hatch is over we shall be concentrating on Season Five, for which plans are already well advanced," said Teixeira.
With this, the race of A1GP Brands Hatch, Great Britain will be final round of the championship. Teams going into this race are: Switzerland, Ireland and Portugal who can still win the coveted trophy. This will mean the title race will go down to the wire as none of these teams can win the title in the Sprint race.
LATEST IMAGES

MORE...
Social bookmark this page
Post comments: