Nokia launches its glamour collection 'PRISM'
New Delhi, Tue, 11 Sep 2007
NI Wire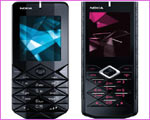 In the tough competition market, Nokia, the second largest mobile manufacturing company is eyeing to boost its reaches in the Asian Market. To surpass its contestant, Nokia has announced to introduce some sleek and glamorous models in Asia. Viewing today's rough era, Nokia is also trying to dissolve in to fashion trend. That's why, Nokia has introduced its trendy module to hit the youth and teen group that is the 60 percent of the whole mobile users.
Nokia has just launched its PRISM collection, Nokia 7900 Prism and Nokia 7500 Prism, sophisticated mobile phones for style conscious people.
The sleek Nokia 7900 Prism comes with 2 MP camera, 3G Technology, 1GB internal memory. Nokia 7900 has the distinction to feature an Organic LED main display that supports 16 million colors and displays light –focused screensaver graphics and it also has dynamic wallpaper which changes throughout the day according to time, while Nokia 7500 has 2 MP camera, strong battery offering nine hours of playback music with optional 2 GB micro SD card, it is very similar in the feature except outlook and colour. Nokia 7900 appears in black polished exterior and interchangeable color accent. Nokia 7900 and Nokia 7500 are priced at Rs 22,000 and 11,000 respectively.
Besides these, users can further customize the Nokia 7900 Prism comes with a gallery selection of 49 illumination colors. Once chosen, this color emits from under the graphic key-mat as well as from the LED display. Lights are also emanated from the top of the phone to signal missed calls and messages.
"Mobile phone as a style and fashion accessory is gaining increasing importance in India. We have pioneered the concept of fashion phones and are happy to launch our latest offering in this space - the Prism collection.", said Devinder Kishore, Director (Marketing) for Nokia India. "Nokia Prism Collection comprising Nokia 7900 and Nokia 7500 is an ode-to-architecture with its sharp-angled lines, geometric patterns and graphic light-refracting colors.", added Kishore.
Nokia showcased its PRISM collection at 'Wills Lifestyle Fashion, Nokia India', Pragati Maidan, in New Delhi. Rocky S showed his exclusive collection inspired by the PRISM collection as both of them has a nexus.
"We are also pleased to announce our tie-up with India's leading designer, Rocky S who is developing an exclusive collection inspired by the Prism. His eclectic creations will reflect the aesthetics of Prism and salute the spirit of modern Indian women.", said Kishore.
Rocky S said "I am delighted to be relate with Nokia, a leading lifestyle technology brand and that will open new opportunities for him to design a modern collection that reflect the attitude of independent women." Rocky further added "My collection will draw its inspiration from the soul of the Prism collection and will be futuristic, daring and mysterious, brazen and in your face to fascinate the stylish women of today".
Katrina Kaif looks dazzling, when she posed with Rocky S, who created a magic out of his creation.
Silas Grant, Senior Designer Manger of Focused Appeal said about Nokia, "At Nokia we realize that mobiles are very personal items and the design has to reflect this intimate status. Nokia has been continuously innovating to bring iconic products that combine aesthetics, technology and ease of use in a sophisticated fashion."
Nokia has been a forerunner in bringing new technology for the mobile lovers. With its new venture it is able to combine style and technology. It has a diamond cut design with light refracting colors.
Key Features:
The features of the Nokia 7900 Prism mobile phone are:
3G technology
Quad band GSM capability
2 MP Camera
1GB of internal memory
The Nokia 7500 Prism mobile phone incorporates the following:
Glossy black exterior with bright, interchangeable color accents
2 MP Camera
Optional 2 GB microSD card
Strong battery offering nine hours of playback music
LATEST IMAGES

MORE...
Social bookmark this page
Post comments: