Earthquake wakes up the north India in the morning
New Delhi, Mon, 23 Jul 2007
NI Wire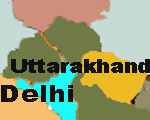 July 23: A moderate earthquake sent a wake up call to north India including Delhi at the dawn of Monday. Early in the morning at 4:32 a.m. an earthquake at the magnitude of 4.9 on Richter scale was felt over north India.
Tremors were felt in Pithoragarh, Chamoli, Dehradoon, Haridwar with mild waves reaching as far as Delhi and Meerut. No loss of life or property was reported from any place.
Though there are reports of cracks in some houses of Uttarkashi due to seismic waves in the morning.
Met officials reported that the epi-centre of the moderate earthquake lay in Gomukh near Gangotri, Uttarkashi, 280 km northeast of New Delhi.
Seismic hazard map of India puts Uttarkashi a district of Uttarakhand bordering Nepal in the east and Tibet in the north on high risk as far as earthquake is concerned. Seismic History of the area observes high intensity earthquakes in the past. The recurrent seismicity of this region is attributed by the geographers to the northward progression and collision of the Indian plate to Eurasian plate.
The push of Indian plate against Eurasian plate creates a stress along the faults. When this fault releases the strain-energy, this phenomenon results in frequent earthquakes in the area. The Indian plate is pushing to north even today at 2 cm every year. The colliding force builds up the pressure the release of which results in earthquakes.
Uttarakhand has experienced strong earthquakes in the past due to this 'tectonic effect'.
LATEST IMAGES

MORE...
Social bookmark this page
Post comments:

Vidyardhi Nanduri
July 23, 2007 at 12:00 AM