Beware of bicycle - the new vehicle of terror
Jaipur, Thu, 15 May 2008
M Shamsur Rabb Khan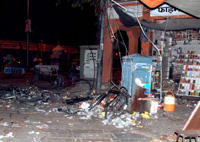 You might have heard about car bomb, radio bomb etc., and many of us have seen these vehicles being used or abused for bomb explosion purposes. But now be ready to face the new face of danger – bicycle. The bicycle has become the brand vehicles of terror, so far the seven blasts of May 13 in Jaipur is concerned. Terrorist have started using bicycle as the vehicle of death. Why? It is easy to get, cheap to buy, convenient to park and better to escape the human focus. In the Pink City blasts, ammonium nitrate or a similar low-intensity explosive, which is easily available in the market, is used to make the bombs that killed at least 63 people and injured 216.
It is suspected that HuJI militants put bombs in small bags that were slung from eight new branded bicycles parked inconspicuously at six crowded sites, according to the e-mail ID guru_al_hindi_jaipur@yahoo.co.uk used for sending the mail. In cases of what is called soft target that is exploding bombs in crowded market places, mosques, temples, and busy streets, bicycles, not cars and jeeps, can easily be transported and parked without due notice, and which can cause maximum damage. This is also a ploy to mislead the onlookers, especially the citizens who have developed keen eyes to observe the unwanted bags, vehicles, and devices etc., and due to sustained awareness about terror strikes, people are little cautious to a certain extent, but with the mindset that terrorist must have big money they would use other vehicles, not bicycles. We are wrong.
It is not the first time that bicycles are used to keep the explosive: bicycles have been used in serial blasts in Faizabad and Lucknow courts by the Bangladesh-based HuJI and in Assam by the United Liberation Front of Assam (ULFA). A month ago, Assam police had arrested a man in Rangia town, 60 km from Guwahati, with a bicycle that had the explosives — a combination of TNT and PETN — packed into the handle. However, sling bags like those used in Jaipur were used in the Uttar Pradesh explosions.
Parked beside pillars or roadside signboards, the bicycles in Jaipur could not have been more inconspicuous. An eye witness, whose 12-year-old son Shaique Akhtar sustained neck and head injuries near Hawa Mahal, said, "A bicycle was usually kept by this pole. Today it was a new one, but I could not have imagined this. All the neighbourhoods ripped by the blasts have a mixed population of Hindus and Muslims.
At Chandpol as well at Sanganeri Gate, the bicycles had been parked close to the gates of Hanuman temples. Tuesday being the principal day of worship, the shrines were crowded. The bombs were planted on bicycles such as the sporty Ranger, most of which had been bought from one shop in the city a day or two earlier.
So, who should be alert in the face of growing new techniques being exploited by the terror groups? Along with public, shopkeepers and policemen on the beat can watch the buyers and parkers. And yes, people of this country need to be intelligent since no one know which vehicle can be the next vehicle of terror. After all, terrorists may well try to mislead the police and the people in their selection of carrier. We must understand that terrorism is not a law and order problem; neither is it a Hindu-Muslim fight; it is a war between hidden criminals and the state, and to defeat this, the people must be aware of the suspected persons, places, vehicles, bags, etc.
LATEST IMAGES

MORE...
Social bookmark this page
Post comments: