New Seven Wonders of the World â?? Recreating history
New Delhi, Tue, 12 Jun 2007
Shoeb Hamid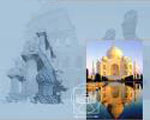 June 12: No doubt the race and the voting for New Seven Wonders of the World have won many a controversies, but millions of people are too eager to know the results. Some see it as a conspiracy to put in shade the great structures and mighty civilization of the ancient times.
Some Egyptian authorities expressed strong criticism for introducing the Great Pyramid of Giza to vote. Egyptian culture minister described it as absurd and have challenged the approach and methodology of selecting the new seven wonders. The monument was later on removed from the list of 21 finalists.
The official declaration of New 7 Wonders of the World will be announced in Lisbon, Portugal on July 7. As the date draws near, the many implications of the results cannot be ignored, neither avoided.
A foots distance from the 20 th century and everyone knows the importance and contributions of tourism industry. Tour and travel depend so much on such pronouncements that there has been a book compiled on the sobriquets attributed to different places and structures of interest. With the announcement of seven wonders, which follow a voting procedure, more or less commercialised, the ones which won't be able to be make it, will suffer immensely.
The 21 finalists include The Acropolis (Greece), Hagia Sophia (Italy), St Basil's Cathederal (Russia), The Colosseum (Italy), Neuschwanstein Castle (Germany), The Eiffel Tower (Paris), Stonehenge (U.K.), The Alhambra (Spain), The Great Wall of China (China), Kiyomizu Temple (Japan), The Sydney Opera House (Australia), Angkor (Cambodia), The Taj Mahal (India), Timbuktu (Mali), Petra (Jordan), The Pyramids of Giza (Egypt, removed from the list), The Statue of Christ Redeemer (Brazil), The Easter Island Statues (Chile), Machu Pichu (Peru), Chichen Itza (Mexico) and The Statue of Liberty (U.S.A).
The controversy does not end with the selection procedure or the losses tour and travel companies may have to bear. Considering as the epitomes and symbolic of the culture and heritage of many civilizations, many people simply refuse to put them to vote.
According to some scholars from Indian sub continent, "Putting Taj Mahal in the voting list would be simply insulting its magnificence and purpose for which it was built. We cannot let our culture get vaporised so cunningly. It may not be a wonder to the voters but for us it is more than a miracle."
Also the pressure is mounting on the agencies that look after heritage places and monuments. Especially for Taj Mahal, if it is not included in the final list of the seven the blame will directly be upon the state government and the central institutions endowed to be the caretaker of the monument.
LATEST IMAGES

MORE...
Social bookmark this page
Post comments:

hari
December 23, 2009 at 12:00 AM

satish jagannath wankhede
June 26, 2007 at 12:00 AM

vinay kamble
June 21, 2007 at 12:00 AM

Shabir Khan
June 19, 2007 at 12:00 AM

Amol Subhash Kumbhar
June 18, 2007 at 12:00 AM

Amol Subhash Kumbhar
June 18, 2007 at 12:00 AM

pawan kumar pathak
June 16, 2007 at 12:00 AM

DALJIT SINGH JAJWAN
June 16, 2007 at 12:00 AM

suresh
June 15, 2007 at 12:00 AM

p.parthiban
June 15, 2007 at 12:00 AM

virendra s daud
June 15, 2007 at 12:00 AM

harish pednekar
June 15, 2007 at 12:00 AM

Shweta Shah
June 14, 2007 at 12:00 AM

Sandeep Jagannath Wankhede
June 14, 2007 at 12:00 AM

Sandeep Jagannath Wankhede
June 14, 2007 at 12:00 AM

Rajesh Pawar
June 14, 2007 at 12:00 AM

Suhas Kalse
June 14, 2007 at 12:00 AM

praphull A. Ranbhare
June 14, 2007 at 12:00 AM

Rahul N Paigavan
June 14, 2007 at 12:00 AM

Ricardo Ochoa
June 14, 2007 at 12:00 AM

mohammad mujtaba
June 13, 2007 at 12:00 AM