Rafael Nadal, the invincible Spaniard, takes home French Open trophy
New Delhi, Mon, 11 Jun 2007
Nadeem Bhat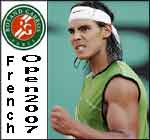 June 11: The21-year-old Spanish tennis star, Rafael Nadal, once more thwarted Roger Federer's bid to complete a career Grand Slam at the French open on Sunday. Nadal deferred Roger Federer's dream for another year by taking home his third consecutive French Open title.
The Spaniard's 6-3, 4-6, 6-3, 6-4 victory emulated the great Bjorn Borg's record of three Roland Garros titles in a row. His record of winning 81 consecutive clay court matches from April 2005 is simply superb.
"I am very happy," Nadal said during the trophy ceremony. "But I am really sad for Roger. He is a friend and I know he is a great champion, whether he wins or loses."
Nadal has been a thorn in the throat of Federer for last three years and the sixth player to win all four Grand Slam events. He defeated him in the semifinals in 2005 as well as in the final last year.
"Of course I'm a bit sad, a bit disappointed," Federer said. "I hope to one day win it."
Nadal kept his 100% win record as he never lost in the tournament in his three visits. He has now won all 21 of his matches including beating the world number one in the final here in 2006.
With a series of brilliant shots, Federer won many hearts one more, but his wasted chances cost him dearly. He failed to convert his first 11 break-point chances, putting pressure on his own serve by repeatedly allowing Nadal to hold. On the other hand Nadal was immaculate with his shot making he lost his serve only once, broke four times in 10 chances and had 27 unforced errors to 59 for Federer.
The outcome left Nadal in the world of his dreams "It's a dream for me," Nadal said. "I worked very hard to be the best."
Federer, with the majority of crowd willing him to be victorious, bravely fought off three break points to establish a 5-3 lead in the first set before he then failed to convert four set points on the Nadal serve in the ninth game.
But Federer leveled the tie by taking the second set 6-4 when Nadal went long with a forehand.
It was the only set Nadal lost in the tournament, and he recovered the loss quickly, breaking in the second game of the third set to a 3-0 lead. Nadal unleashed his skill again for a 2-1 lead in the fourth set when Federer dumped a weary shot in the net, and the Spaniard never wavered from there.
Nadal wrapped up the things in three hours and ten minutes with the weary long forehand from Federer, calling it a day.
"I could not do what I wanted to do from the back of the court," Federer said. "I was always trailing. It was not easy."
It was a warm day and spectators in the sun were fanning themselves from the outset. Both players looked weary in the pivotal third set. But the dogged Nadal kept chasing down shots all over the court.
LATEST IMAGES

MORE...
Social bookmark this page
Post comments: