Shoot at sight orders in Rajastan
Jaipur, Sat, 02 Jun 2007
NI Wire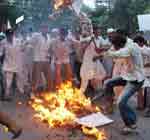 June 2: The violence in Rajasthan escalated to the level where shoot at sight seemed the last resort for the government to maintain law and order. The orders have been already issued against the rioters in Sawai Madhopur and Bharatpur districts, who indulge in damaging government and public property and violate prohibitory orders.

As many as 20 people including two police men have killed in the violence that began on Tuesday over the Gurjar Sangharsh Samiti's demand for shifting the community from OBC to ST category.

However the situation in Bharatpur including the worst hit areas of Bayana and Roopwas is reported to be under control since last Thursday.

Bharatpur Superintendent of Police Anand Srivastava said that army and Para-military forces patrolled the affected areas in the district and no fresh mishap has been reported, as yet.

Leaders of the All-India Gujjar Mahasabha and the Gujjar Development Council have called on the party president Rajnath Singh and sought his intervention to direct the Rajasthan Chief Minister to consider their demands sympathetically, failing which it would be difficult for them to withdraw their agitation.

However, Rajnath Singh appealed to them not to do anything to further escalate the situation and cooperate in establishing peace.
Additional Director-General of Police, Navdeep Singh, who is looking after deployment of security forces, said that in addition to the army which has been deployed in the 12 troubled districts, also about 3500 personnel of CRPF, BSF and RAF are patrolling these cities and towns in order to ensure peace.

Even though the state remained peaceful on Friday, BJP leadership still appealed the communities in Rajasthan especially Gujjars to maintain peace.

North-West Railways has cancelled 19 trains, suspended six others and rescheduled two other trains in view of the ongoing agitation. However Rail and road services remained paralyzed in most parts of the state except in Jaipur- Jodhpur and Jaipur-Bikaner sections.
BJP spokesman Ravi Shankar Prasad said â??There seems to be a conspiracy to disturb peace and social harmony in Rajasthan,â?? he said, but, however, declined to comment if he foresaw the hand of any political party behind it.

LATEST IMAGES

MORE...
Social bookmark this page
Post comments: